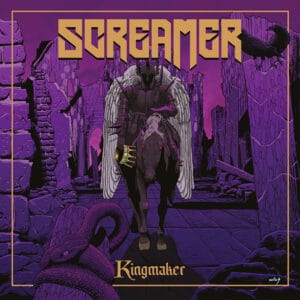 It's really funny how some bands acquire a history with us here before the review. It's been a month or so I'm visualizing Screamer at social media a lot. The first thing that comes to my mind when I see a band a lot at social media is if I've received it for a review for obvious reasons. It's always good to review bands with a great visualization. So, I kept thinking if I had received "Kingmaker," but I was a bit slob at looking for the album in my files. You know the holidays, all the free time, all the lazyness. You know what I'm talking about my dear child of the night. Yesterday I was downloading another albums when I ran into the file. As you know –  do you? I guess I wrote about this a little time ago, I keep my files organized in folders by date of release to keep up with the dates not to miss any release because I hate to miss a release. I guess when someone confides one a band file this person is obligated to do the best to review it in time. It means respect for the band and for the PR. Ok, so, I ran into the album and here I am reviewing it.
Right, "Kingmaker" isn't exactly a groundbreaker album with lots of news. No, if that's what you're expecting, please, go on. What we've got here is the good old Old School Heavy Metal with absolutely no touches of modernity. Well, for some a blessing, for others a curse. I like it just the way it is and I guess many fans do as well. "Kingmaker" isn't exactly what I would monolithical. Tracks have some slight changes of heart among them all. What is certainly a great thing. Album tittle and welcomer "Kingmaker" has great riffing with a mild tempo and cadence. The song addresses to the 1990s Metal of bands as Hammerfall, for instance. By the way, now that I said that I realize that Hammerfall is musicwise a good example though Screamer are a bit more melodic as "The Traveler" appears to the fan. As a kind of surprise – well, not really, "Chasing the Rainbow" opens up with that church organ sound followed by a guitar solo to the fall into a frentic cadence. Maybe the most thumbs up track of the album and the track that addresses the most to Hammerfall, as it occurs to me right now.
As a matter of fact, Screamer made a pretty coherent album. "Kingmaker" is full of sweet emotions. It also showcases a band that really knows what it desires. The music in here showcases a band that clearly loves what they're doing. It's possible to feel this energy. It's been really soime time that I don't see a band so enthusiastic. An album to enjoy even though it has no news.  But who said all albums have to be news? I never did.
Screamer "Kingmaker" will be released on January 13th via Steamhammer / SPV Records.
Track Listing:
Kingmaker
Rise Above
The Traveler
Hellfire
Chasing the Rainbow
Ashes and Fire
Burn It Down
Fall of a Common Man
Sounds of the Night
Renegade
Watch official video here: