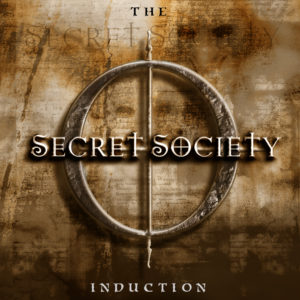 One may say that Secret Society "The Induction" is simply more of the same. I agree that "The Induction" is not the most different album in terms of Metal I have ever listened to. Nor the most bold and daring. But it is so damn good. There are only five tracks in "The Induction," but they are of a pristine quality.
"The Induction" opens up with "Broken Crutch," which screaming vocals called the eye. A common, but efective, guitar riff does the rest of the magic. "Broken Crutch" shows a very skilled band which knows what they really want. And it is a power melodic metal. The following track, "Monsters," has a very anthemic chorus. The kind that makes you singalong without noticing. Helloween's lessons were very well learned. Some may have the will to kill me for what I am going to tell, but "Mental Mayhem" has a great taste of Skid Row, mainly due to its vocals. Mr. Sebastian Bach was honored here. As a matter of fact, Skid Row's spirit did not leave the place. The ballad, "Broken by Design," could have been written by the guys. I mean it. In my opinion, this is no disrespect. Skid Row, if you leave all the excess behind, are a great band. If you doubt me, listen to "Slave to the Grind" and tell me. The last, but certainly not the least, "Waysted" has a great intro riff and a big emotional grip.
Well, to tell you the truth, it was a pleasure to listen to Secret Society "The Induction." As I told in the beginning, it is not the most daring album I have ever heard, but it feels so good.
Secret Society "The Induction" is self-released and will be inducted on May 11th.
Track Listing:
Broken Crutch
Monsters
Mental Mayhem
Broken by Design
Waysted
Watch "Mental Mayhem" trailer here: