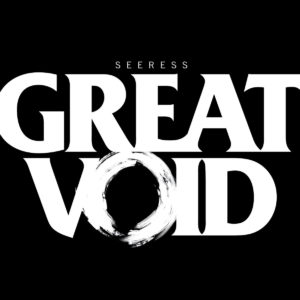 Ah, the beauty and rewards of working for a Metal page reviewing all kind of Metal bands. I had two brutal bloody bands in a role, so I decided it was time to cool down and get a calmer band. You know, sometimes one needs to give the ears a refreshment. So, tell me honestly, is there any other musical style in this sad and lonely world that allows you to do this? No, I guess not. Okay then, the ice was broken and we can talk business, shall we?
Seeress "Great Void" is everything I expected from an instrumental ambiental effort. "Great Void" is short length, another way to say EP, with only four tracks. They are pretty linear. Three of them are long, about nine minutes long. "14h 50m 46 Degrees," the shortest, is actually a speech. In musical terms, some call it post-rock, whatever this might mean. I'd rather stick to art rock. Well, actually, there is a great deal of bands doing this kind of sound because we've received plenty of efforts in these two years.
In fact, "Great Void" is the kind of album to make you relax. Of course for those who relax with music. I do. Seeress are the kind of band which carefully plan their songs. They do seek for the right moment of changing the pace, or adding a blast sound, or something like this. That's the impression one gets to hear to "Great Void." Nice piece of art work, or better yet, art rock. Yeah, art rock. Few years ago Seeress would be labeled art rock undoubtedly. Modern labels aren't really compelling to me. To tell you the truth, most modern things. Yeah, yeah, cranky old man.
Pay attention to choice of words Seeress do with songs: Attractor, Repeller, Collapser. Cool thing. As I said, Seeress are a band which has everything under their control. Each chord, each riff, each drum filling are planned ahead. That's the beauty of Seeress and "Great Void." It's a calm and tranquil travel to the world of great music.
Seeress "Great Void" was reelased on June 16th via independent means.
Track Listing:
Attractor
Repeller
14h 50m 46 Degrees
Collapser
Watch "Attractor" official video here: