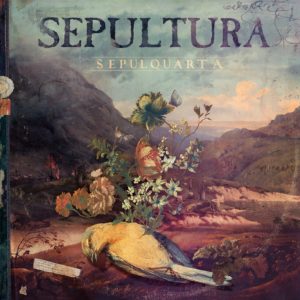 This Covid-19 pandemic brought humankind a lot of different new directions or choices, if you know what I'm saying. Denialists out, all of us had to adapt to this whole new world delivered to us. It doesn't matter where it came from. As you, my fan, know there are dozen of conspiracy theories and they absolutely don't mean squat to me. We all had to adapt. Bands had to as well with the impossibility, at least for now, of having gigs and shows or tours around the world. As we all know, those are the main means to bands to make a living as CDs and the physical media by all means have lost their place into band's profits and revenues.To make a living is the perfect expression to explain what happened to many bands during this catastrophy – from the many that will come – that happened to us. And when I say us I mean all of us as coletivity.
Ok, then. Here we have Sepultura, a band that I have the pleasure to review for the first time, but I've been dealing with all my life. Long story short, I've known the band since their foundation in the beginning of the 1980s. At first, it was a band that I loved to hate. Yeah, right. Their debut release 1985's "Bestial Devastation," the famous split with Overdose's "Século XX" I only put to tape Overdose, I willingly ignored. I mean, I didn't even gave the band a try. Their sophomore and first full-length 1986's "Morbid Visions" just passed away as 'one more of this s* band ?'.  Nah, pass. Their followings 1987's "Schizophrenia" and 1989's "Beneath the Remains" had my blessing as 'Are they still alive?'. The band only got may attention, and that attention turn into love, with 1991's "Arise." Ah, still their best to me. The rest belongs to history.
So, Sepultura are one of the bands that had forcibly to adapt to this new reality. The way the band found to fight the forced stillness was to create the "Sepulquarta" – it's a mix of two Portuguese words Sepultura and Quarta (Wednesday), the day the live happens. In this live the band had a lot of featuring guests. This album "Sepulquarta" is a kind of best of. There are international great names of first league Metal music as former Megadeth's David Ellefson, Anthrax's Scott Ian, Testament's Alex Skolnick, and Motörhead's Phil Campbell among others. To them Sepultura added some Brazilian Metal names as rising stars Crypta's Fernanda Lira and Torture Squad's May Puertas who do the vocals on the best track of the album "Hatred Aside," and well-established Korzus's Marcelo Pompeu and Angra's Rafael Bittencourt. The other names are from Brazilian Rock and Popular music as a gesture of good will.
"Sepulquarta" reflects Sepultura's long duration career as it goes from the band's first years classics and some from their new formation with Derek Green who, by the way, is in the band since 1998. It's an album for fans, but not fans only. The kind of album to recommend to that friend of yours that is about to Metal ands wish to know the band which is undoubtedly one of the great names of Metal music.
I can't help it saying it, but what an astonishing CD cover.
Sepultura "Sepulquarta" was released on August 13th via Nuclear Blast Records.
Track Listing:
Territory (feat. David Ellefson)
Cut Throat (feat. Scott Ian)
Sepulnation (feat. Danko Jones)
Inner Self (feat. Phil Rind)
Hatred Aside (feat. F. Lira, A. Burns, M. Puertas)
Mask (feat. Devin Townsend)
Fear, Pain, Chaos, Suffering (feat. Emmily Barreto)
Vandals Nest (feat. Alex Skolnick)
Slave New World (feat. Matthew K. Heafy)
Ratamahatta (feat. Joao Barone & Charles Gavin)
 Apes of God (feat. Rob Cavestany)
Phantom Self (feat. Mark Holcomb)
Slaves of Pain (feat. Fred Leclercq & Marcello Pompeu)
Kaiowas (feat. Rafael Bittencourt)
Orgasmatron (feat. Phil Campbell)
Watch "Hatred Aside (feat. F. Lira, A. Burns, M. Puertas)" official video here: