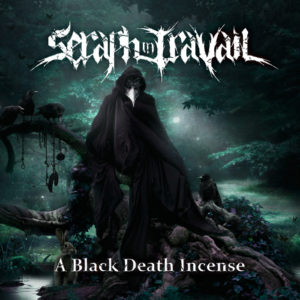 Here we have one more Extreme Metal album. It's the third in a role proving that the powers that be of today are definitely with them. Well, in fact, it's my choice to review this or that band, however, I have to obbey the release date sent me. Therefore, that's why some albums go in a role according to their release date and sometimes it happens to have many of one determined style. For many a torture, for me a blessing. "One man's meat is another man's poison" that's what they say. Unlike many may still think – I don't think this misunderstanding is completely over – Extreme Metal isn't all the same and bands don't sound exactly like each other. There are many variations and subtle – yeah, subtle – diferences among them. So, when reviewing so many Extreme Metal bands I look for those differences and variations over the same theme. As we all know there's a limited number of notes and musicians have tro manage that shortage in order to make their music unique. The number of notes is limited, however, the number of variations is infinite. So is the band's criativity.
"Fixed and Dilated" opens up "A Black Death Incense" giving an intense feeling to the fan that we are talking about a Sympho Metal band. Here comes the subtlety and the finesse because we are talking about a Symphonic Death Metal band, a label that I confess not to be that usual. As I said, the number of connections and textures a band can make is unlimited and Seraph in Travail manage that pretty well with clean and harsh vocals at the same time. In fact, the harsher vocals sound a lot more desperated than the usual which gives the subtle difference I'm talking about. Coming to think of it, there are four vocals in the song: the normal clean, the more imposed clean, the desperate and the gutural. Following track "My Bitter End" is a little bit more symphonic exploring more keyboards features and textures and voices. Funny to mention that when I was writing about the track it ended without me noticing it and I got me writing about the third track "When They Crown You Queen" whose cadence is a little unusual for it mixes different tempos in the beginning. I like to be surprised this way. On second though, maybe I didn't notice the change of tracks because I was paying attention to other things –  I write, listen, take care of my cats, look for other subjects, read my e-mails, read the FB and many other things while I'm writing.
"A Black Death Incense" has the usual neat intrumental of Sympho and Death Metal without abusing of female lyric singing. In fact, there's no female voice in the album and Seraph in Travail manage this pretty well with the many faceted male vocals. It's a very interesting album to the fan that likes both Sympho and Death Metal.
Seraph in Travail "A Black Death Incense" will be self-released on March 19th.
Track Listing:
Fixed and Dilated
My Bitter End
When They Crown You Queen
In Hemorrhagic Hues
Dead Scream Kill
For the Wrath of Dying Days
The Apostate Coil
Across Bloody Waters
Watch "Temptress Suicide" official musical video here: