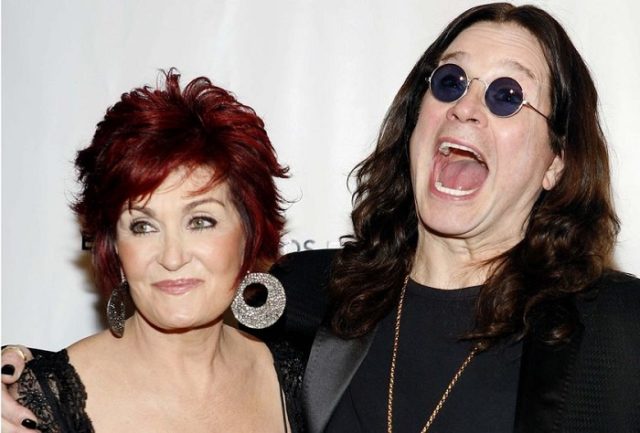 During yesterday's (September 12) episode of "The Talk", Sharon Osbourne shared details of how she gathered evidence before busting husband Ozzy for having alcohol and pills.
"With Ozzy, he used to hide his alcohol and pills from me," she said. So I used to spend a lot of time looking for 'em. And I found out where he kept his alcohol — that was in the oven, 'cause I never used it.
"And his pills he used to put in the socks. You know when you fold socks and put them in the drawer. They were in his socks. And so I used to go in and do a midnight raid, commando-style, and get all the stuff.
"And then, a couple of weeks went by, and we'd spend an awful long time in his dressing room… And then after about a month, I came in with a big tray and said, 'Are you looking for this?'"
During his recent appearance on SiriusXM's Ozzy's Boneyard, Ozzy spoke to close friend Billy Morrison about his recent health issues and his recovery. 
"It's been one of the most f*cked up years of my life," Ozzy said. I broke my neck in January, I had pneumonia, I've had f*cking blood clots… It's been an eventful year, to say the least. I have been in such pain this year.
He continued: "I was doing that farewell tour, and it was going great. I was singing better than I've sang [in a long time], and I was really happy. I went home for a short break and I got two staph infections in two of my fingers.
"God knows how that happened. That cleared up. Then I did the New Year's Eve show at the Forum here in Los Angeles. That was the last gig I did, 'cause the following February, I went for a bathroom break in the night and lost my footing. I hit the deck like a f*cking ton of bricks."
Talking about his recent surgery, Ozzy said: "I don't know if you remember, a few years back, I had a quad bike accident. I'd done some damage there, but they just patched me up.
"For the last 10 years, I've been getting electric shocks down my arm. So when I fell down just after New Year's Eve, I was lying there and I said, 'Well, you've f*cking done it.' So then I said to Sharon [Ozzy's wife]… She goes, 'What are you doing?' It was two o'clock in the morning. I said, 'I think I broke my neck.' She goes, Oh, go and get back in bed.' I said, 'No. Call an ambulance.' So that was it."
Ozzy has announced the postponement of all his 2019 tour dates, inclusive of shows in North America and Europe, as he recovers from an injury sustained while dealing with his recent bout of pneumonia.