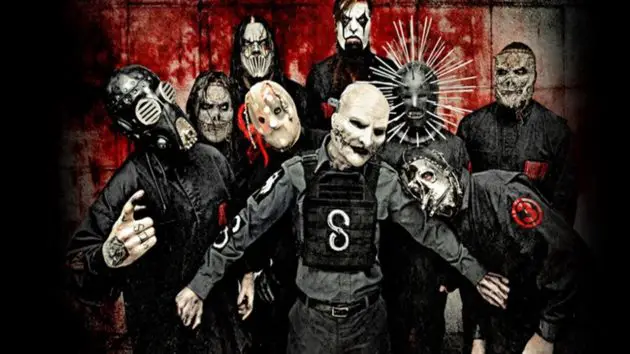 SLIPKNOT percussionist Shawn "Clown" Crahan revealed the band's plans to enter studio and work on the follow-up to 2014's ".5: The Gray Chapter," saying on The Jasta Show (as transcribed by Ultimate-Guitar.com):
"I just want to say real quick to all our maggots out there how much love we have for each and every one.
"You should know, if you're doing the math, that the time off [between albums] is half – or not more – now. So what that means is that half the time off is already expired, if not more.
"I would probably assume that by this time next year I will be in LA in a studio making a new album. I would imagine that would probably be the timeline – next October.
"Do I know this for a fact? Of course I do! Am I gonna tell any of you? For a fact, no.
"But as you know I would assume that October's a wonderful month. And November, especially before the god forsaken Christmas in the industry because everybody who wears the smart shoes and went to a college for a degree on how to market our art goes away until January 15th!
"So while they go away, I don't sit in snow spending money. I come to a studio and make art and let godmoney facilitate a real Christmas to where I'm not worrying where the smart shoes are and what the hell they're doing. I'm creating art and that's a good compromise.
"I would imagine right around this time next year the Knotian way is gonna be in full effect. But I'm really proud to say… You always hear us talk about our stuff. There's a certain coming of age with this band called Slipknot. And we only learn so much, and we only take so much.
"So we are always, always learning our art. And I'm very, very, very excited where we're at at the moment. We're always having to judge where we're at by where we're at.
"Right now we've been getting together several times. I wish I could play this stuff, but it's just so incomplete and not anybody's really on it, it's just very miniscule. And that's what's so exciting – there's still plethora of ideas to get on anything minuscule that's done.
"Anyway, fans of the Knot, thank you, we love you."
During the rest of the chat, Clown shared his fondness of Tool, explaining how he became a fan way back in the day:
"Des Moines, Iowa, [Henry] Rollins comes out, [1992's] 'The End of Silence' tour. Just fucking violence! I'm on my way up – I'm digging – 'What am I gonna do in this world?' And I'm going to Rollins shows. Because I'm an old punk rocker, that's where it all started with me.
"So I followed him around. I went to a club in Chicago called Deuces and Tool is supposed to open up and their vehicle had broken down and a band Charlie Don't Surf opened up. Rollins, Omaha, Ranchpool, Tool opening up. Danny Carrey's kit in front of Rollins. Stage is this big already, super small, Tool's in front of Rollins.
"Maynard has a foot and a half to preform. I'm immediately up front in the pit, we're getting on, I've never seen them, I know nothing about this band, but it was the kind of evil eye I like.
"Now whether they project that or want that or whatever, it doesn't really matter to me, I'm just telling you who I am and where I go. And I went there. And I remember at one time like five of us holding Maynard's leg. Dudes were coming over and their boots were ripping my hair out of my pony tail.
"And I remember him getting kicked in the nuts and just not even being fazed. It was a magical moment for me. And I signed up for their mailing list, like fan club. And I can remember getting little zine type quality things with what they were doing. And they were fucking weird, man! They were arty, like they are. Way back then.
"And back then I'd be sitting in my bathroom looking at this pamphlet of them all the way from Hollywood, or wherever. So that's kind of like how I got into that. I was always searching shows. I would travel to Chicago, Kansas City, Omaha, Minneapolis, maybe even as far as Texas – to see shows."