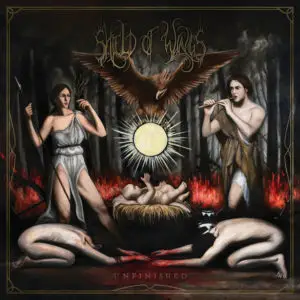 First things first, an extremely rare case of a band name larger than the album title – hehehehehehehehe. I can't resist to that, you know it my dear fan. Remember that I look in each particular thing in each particular band to wrie about. That's the first thing that came to mind.
Second, the number of bands with symphonic influences has increased a lot these years. It's astonishing how many we've received in the recent years. Of course, as I always like to say, most of them have female vocals which for me guarantess that I will at least with lots of attention. Most importantly, bands are varying vocals giving more room to other kinds of vocals to contrast with the soprano female standard. Sometimes the divas share vocals with their male companions which use their harsh and death growls to create a more aggressive mood and to give the needed contrast in the songs. Here we have Shield of Wings with "Unfinished" that invest in this combination of a soprano female vocals with the demonic and aggressive male vocals. The band also uses and abuses of the grand and pompous moods to their songs as if in an opera. By the way, the opera features are one of the common features all Symphonic bands use. Shield of Wings use camerata and other camera instruments to give a contrast and to sound stronger. Most tracks use this combination. An interesting characteristic of the band is that the drums are palyed to accompany the strings and percurssion instruments in order to highlight them. Try "Frozen Harbor," for instance. By tracks as "Cedar" the fan will feeel the organic relationship with the Metal instruments and the Symphonic ones. In this very specific track they are so fit together that they seem to sound as one. That's what I mean by organic. In "Mind of Myth" Shield of Wings exercise the vocal duet I said before in a very classic way with the two playing their known roles. Male vocals are more devilsh than other tracks. "Sunfire Shower" is a great example of the pompous and grand mood I aforementioned.
"Unfinished" is a great album for the ones who are about to Symphonic Metal. A great first step.
Shield of Wings "Unfinished" will be released on February 11th via Elderpath Records.
Track Listing:
Crushing Hail
Native Colossus
Breathing
Frozen Harbor
Cedar
Wetland
Mind of Myth
Sunfire Shower
Come Home
The Scarred Clay Reshaping
Watch "Wetlands" official lyric video here: