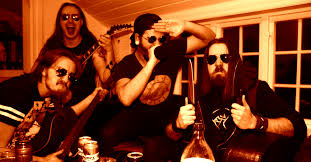 Formed in 2008, Shotgun Rodeo are a four piece heavy metal band hailing from the city of Trondheim, Norway. Seamlessly cruising across a sea of metal styles and sub-genres, Shotgun Rodeo surpasses any premeditated sonic expectations that the listener may have had before listening. The band don't like to be labeled as one genre, but if held at gunpoint they would refer to themselves as "Heavy Metal on Steroids." Following on from their previous EP releases "Dead End Massacre" (2012) and "Guilty as Charged" (2013), the band really picked up some steam with the release of their debut full-length album, "World Wide Genocide" in 2015 and "The New Standard" EP in 2016. These were highly praised by international press and magazines. Labeled as a band that is both nostalgic and forward thinking, Shotgun Rodeo is a band that will appeal to many different listeners from the metal world.
Never afraid the push the boundries, the band are now gearing up to release their second full length album, "By Hook Or By Crook." The diversity and technical proficiency  of the album's 13 tracks takes Shotgun Rodeo's sound even further then previous releases. It's an interesting combination of styles which seems wayward upon first inspection, but overall their sound is incredibly methodical, and it's this vast range of influence and Shotgun Rodeo's clear knowledge and love for metal heritage that makes it work. At times, "By Hook Or By Crook" feels like a release that could have been heard on Roadrunner Records during their heyday, but it could equally feel at home with along the likes of modern metal bands as Lamb Of God and Avenged Sevenfold. As only their second full length album Shotgun Rodeo have shown a lot of promise for what is yet to come.
Shotgun Rodeo are:
Nino Escopeta – Vocals
Don Shrediablo – Guitars
Grimmo D.B. – Bass
Doomfang – Drums
Read our review here.