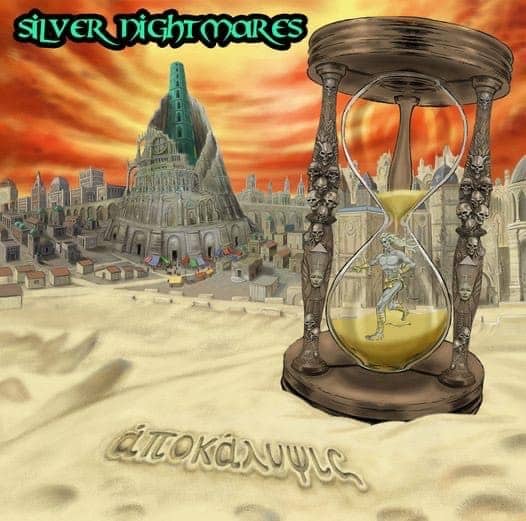 Personal taste is really something that no one can tell. Even I don't ever know how to explain why sometimes I decide to review a band. Of course, there are bands that are easily reviewed as some that I've already told here. Reasons are many and never obvious. By the way, in science there is no such thing as obvious. Music isn't a science, of course, but I do like to give my reviews some treats of science. When albums go far from Metal music things get a little more complicated to explain. As my dear child of the night knows, I like to review Prog Rock albums. However, the name Prog Rock is an umbrella for many types of music from the well-known and commercially well-suceeded Yes to the classical music inspired ELP. From the Heavy Rock and Psychedelic Pink Floyd to the almost Metal Marillion. There are many facetes to Prog Rock which, for its nature, is the most fertile land to experimentation. That's what this Silver Nightmares with "Apocalypsis" is. An insane melt of Uriah Heep, Deep Purple, Yes, Marillion, with some touches of Jazz Rock, Classical Music, Metal and much more.
Michele Vitrano's vocals reminds a little Genesis' Peter Gabriel. Not by the overtone but by the imposing voice he does as in "Etemenanki." On the other side of the coin, it does remind more Marillion's Fish as in "Sea of Sikelia." Each track here tell a different tale muscially and lirically. "Scorns of time" has something that reminds me The Beatles with some 1980's treats as in the slide guitars. On the other hand, even though its tittle addresses to Uriah Heep, "Wizards, Witches and Sorcerers" is the track that addresses even more to Genesis with some instrumentals that relies on the flute and the acoustic guitars going by ELP's lane. It's the most Prog Rock track of the album with a spoken part that reminds the likes of Rhapsody of Fire. So sweet and gentle track to listen while reading a poems book. And as I said before, just to prove me right – I love when that happens – "The Awakening" is so, but so Uriah Heep with its so typical keayboards even thought the guitars and the piano don't sound as much. But it would be a track Uriah Heep would record in the 1970s. Just loved the fuzzy guitars with some ethereal effects. To never forget the mix of the pomp and grand thought to be commercially sucessful as "8" which is the lost link between Dokken and Yes – if such thing would ever be possible.
"Apocalypsis" is such a trip. A living proof of the myriad of sounds that modern Prog Rock is today being a hodgepodge of influences and sonancies that come from the 1960s until today.
Silver Nightmares "Apocalypsis" will be independently released on November 1st.
Track Listing:
SapHiens
Nefertiti
Etemenanki
Sea of Sikelia
Scorns of Time
Wizards, Witches and Sorcerers
The Awakening
8
The Blue Light of a Star
The Weird Black Cross
Intangible
Watch "The Blue Light of a Star" official music video here: