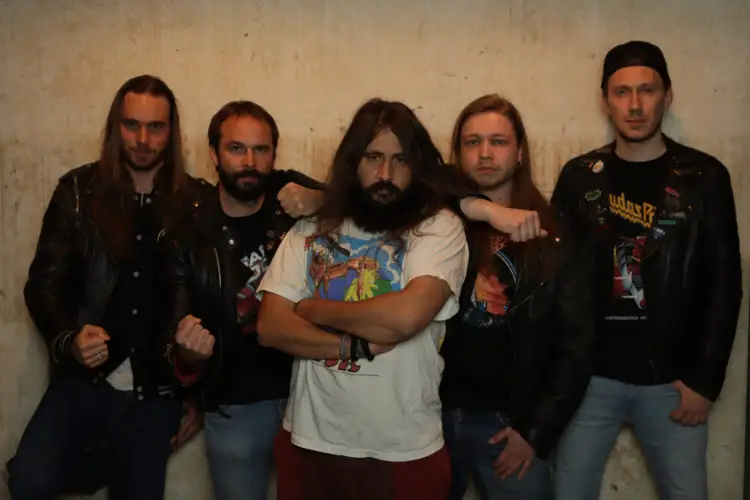 If it comes to pure Heavy Metal made in Switzerland, SIN STARLETT is the real deal!
The band was founded in 2005 in Lucerne and released their first demo album shortly after. Tragedy struck the band in Summer 2007 when
drummer "Dany King" was found dead in his apartment. The guys were shocked, but still had a strong will to continue their iron mission. A new drummer was found very quickly and they released their debut album "Call To The Punisher" in 2008 and received positive response from the press. In 2012 the Swiss metalheads returned with their second output called "Throat Attack" (CD/LP on Emanes Metal Records) packed with songs that breathe the raw, hard-rocking spirit of the N.W.O.B.H.M.
Over the years, SIN STARLETT established a reputation as an outstanding live band and is well known for their energetic, sweat soaking live shows. As Joey DeMaio from Manowar once said: "Man, these guys are more metal than I am!" After playing numerous shows all over Switzerland, Germany, Spain, The Netherlands – and even conquering Greece with an astonishing gig at the Up the Hammers-festival! – the band released their third album "Digital Overload" in February 2016. This album proved that they perfected their formula, delivering 8 pieces of powerful, compact & timeless Heavy Metal anthems.
In 2019, the band recruited their new Guitarist "Jack Tytan" and started writing material for their next longplayer. Their 4th opus "Solid Source of Steel" will finally be released in February 2022 and is showing the band at their peak – exciting Metal-hymns, thrilling twin-guitars, presented with a refreshing "down-to-earth"mentality. No trends, no gimmicks – just pure Heavy Metal!
Read our review here.