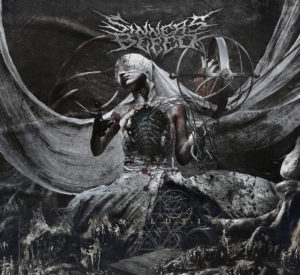 No, Sinners Bleed won't change the world with "Absolution." Not even a bit. However, the world of Metal gets a little more proud of Sinners Bleed and "Absolution" due to its high quality instrementals and compositions. In terms of technalities, "Absolution" is almost near the borders of perfection. Furthermore, the choices on guitar tones are out of the common choices Extreme Metal players usually do. In general, the choice is for low tones in order to make the music heavier. It does work, of course. I can't deny this fact. But to listen to a guitar with a so clean and clear tone is some kind of news in terms of Extreme Metal music. Besides that, Sebastian Ankert and Arne Maneke are resourceful guitarists who make use, and abuse, of some forgotten techniques which enhance the effects. Also, other relevant fact is that they avoid sounding so technical as many peers do. I mean, when one listens to "Absolution" the feeling is that you are listening to a Blackened Death Metal band, not a Technical Death Metal band. It means a lot because there are fas who avoid technical bands just because. It would a blatant mistake to avoid Sinners Bleed.
From the beginning with the intro it's possible to note that Sinners Bleed have a different intent, though "Age of the Crow" takes off pretty much regular. The difference comes with the guitar solo and the complex and intricate guitar riffs. Guitar solo tones are very much appreciated and clear and far-fetched with lots of links between notes which give the idea of "flying" notes. But the carnage goes on and on throughout the album. That's the thing that attracts the most because Sinners Bleed never let the aggression and heavyness go. The band's intent to make it heavier and heavier is reached in "Gleaming Black" which begins with a very fast drumming and a harsher than normal vocals. Really a killer song.
As I told before, it's a blatant mistake to avoid Sinners Bleed and "Absolution" due to its high quality instrementals and compositions.
Sinners Bleed "Absolution" was released on May 25th via War Anthem Records.
Track Listing:
Intro
Age of the Crow
Gleaming Black
The Second Being
Devouring Hatred
Behind the Veil
Dawn of Infinity
Absolution
Obedience
Jesus Desilusion Army
Watch "Gleaming Black" official video here: