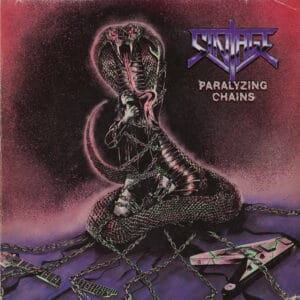 Each band I review a different feeling. It couldn't be different as I look for the band's uniqueness in each album. That's also why I listen to albums more than twice if required. Some reviews come easy as the breeze; some others are more difficult to get the band and album's essence. This one Sintage with "Paralyzing Chains" was pretty easy since from the very first moment I connected the band with the great early Loudness from "Live-Loud-Alive: Loudness in Tokyo" era – the album that introduced the band to me. Fun fact is that the press release disclosures many bands as reference but Loudness. Well, that usually happens. Randy's vocals were the thing that immeadiately connected me with the band ad Loudness even though their 1980's oriented Heavy Metal doesn't relate to them at all. Frankly, their instrumentals are much more related to Teutonic Metal as Tyrant. I really liked the relentless single bass drumming album welcomer and Tygers of Pan Tang inspired "Midnight Evil" –  Tygers of Pan Tang are a blast, my dear child of the night. Google them right away. This single bass drumming used here gives, and its dissimilar speed approach, the drumming its pretty unique and time related charm.
It's really hard not to quote bands while reviewing a band inspired on the 1980s Heavy Metal. Of course, that is due to the immense tonloads of great bands that came before. It's almost impossible to a band not to  be related to any of them. As a matter fo fact, "Paralyzing Chains" is full of them which, to some extent, makes it more interesting. From where I'm standing, this 1980's Heavy Metal approach will never worn out. And I don't say that because I grew up listening to it. The guitar riffing from "Spirit of the Underground" delivers a frentic desire of headbanging all the way as if the world is going to an end – well, as a matter of fact it is. This kind of energy is the thing that makes this Metal unique and beloved. Energy is everything Sintage are all about. The way the guitar solo bursts into the songs is another thing that pleases me so much. By the way, the way guitar solo bursts into "Venom" reminds me of another pinacle band of the 1980's the mighty and unsung Tokyo Blade. Coming to think of it, there is a lot of the band here in the album.
Sintage "Paralyzing Chains" will be released on April 14th via High Roller Records.
Track Listing:
Midnight Evil
Spirit of the Underground
Venom
Wild Dogs
Escape the Scythe
Blazing Desaster
Rocking Hard
Flames of Sin
Watch "Rocking Hard" official music video here:
1711