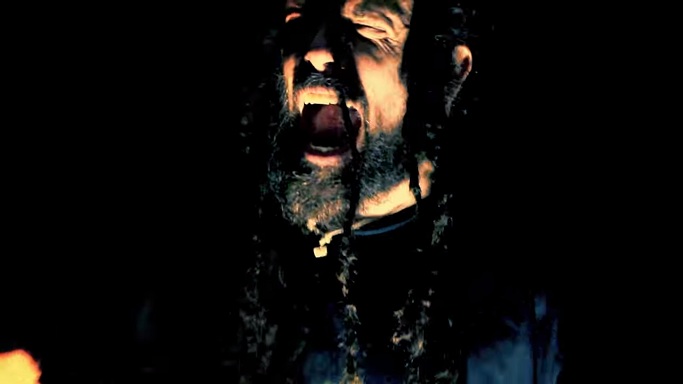 On May 27th, SIX FEET UNDER will release the fourth installment of their 'Graveyard Classics' series, this time paying tribute to two of metal's most heralded legends: Iron Maiden and Judas Priest! Entitled 'Graveyard Classics IV: The Number of the Priest', the album is comprised of fiveJudas Priest covers (side A), and six Iron Maiden covers (side B), handpicked by Metal Blade Records CEO Brian Slagel. For a preview of the record, the cover version of 'Never Satisfied' is now streaming via Sound Cloud and can be heard below.
To hear the first single – SIX FEET UNDER's cover of 'Invader' – and to pre-order the album in various formats, please visit this location.
In regards to this new serving of death metal tributes, SIX FEET UNDER founder Chris Barnes comments: "Get ready to have your ears violated and your mind blown! 'Graveyard Classics IV: The Number of the Priest' just crawled out of the Heavy Metal Cemetery! Having a good time playing music is what it's always been about since day one, and that's what the 'Graveyard Classics' albums are to me… a good f**king time! On this trip down memory lane, we cover songs from Judas Priest and Iron Maiden; the two greatest metal bands of all time. Ray Alder from Fates Warning did a guest background vocal appearance on 'Invader', our first single. Ray is a great friend, and an awesome vocalist, and I felt our differences in styles blended well together for the middle section and added some harmony to the rawness. I hope you all enjoy the band's twist on these legendary songs!"
Graveyard Classics IV: The Number of the Priest track-listing
Side A: Judas Priest
1. Night Crawler
2. Starbreaker
3. Genocide
4. Invader
5. Never Satisfied
Side B: Iron Maiden
6. Murders in the Rue Morgue
7. Prowler
8. Flash of the Blade
9. The Evil That Men Do
10. Stranger in a Strange Land
11. Total Eclipse
SIX FEET UNDER will be on tour this summer in Europe for a very special select run of dates. Chris Barnes comments: "Graveyard Classics The Tour begins June 30th and ends July 9th, with our return to the all powerful With Full Force festival!! Looking forward to that as well as playing an entire set list of cover songs on this tour- something we've never done before! It will prove to be a very special group of shows. If you're anywhere near these places this summer, make sure not to miss this!"
SIX FEET UNDER live:
June 30 – Rotterdam, Netherlands – Baroeg
July 1 – Roitzschjora, Germany – With Full Force Festival
July 2 – Flensburg, Germany – Roxy
July 3 – Rostock, Germany – Alte Zuckerfabrik
July 4 – TBA
July 5 – TBA
July 6 – Innsbruck, Austria – PMK
July 7 – Ludwigsburg, Germany – Rockfabrik
July 8 – Pratteln , Switzerland – Z7
July 9 – Essen, Germany – Turock
On the 13th of May, two weeks prior the release of 'Graveyard Classics IV: The Number of the Priest', Metal Blade Records will release vinyl editions of the classic albums 'Haunted' and 'Warpath'.
Both albums will be released in black vinyl as well as in two different coloured versions each. The vinyls are part of the Metal Blade Originals series that started earlier this year with the re-issues of the SLAYER titles 'Show No Mercy', 'Hell Awaits', 'Haunting The Chapel' and 'Live Undead' and two albums by NASTY SAVAGE.
The SIX FEET UNDER vinyls will be released with 400g heavy cardboard spine sleeves (inside out print), A2 artwork posters and 250g inserts.
[soundcloud url="https://api.soundcloud.com/tracks/259751769″ params="auto_play=false&hide_related=false&show_comments=true&show_user=true&show_reposts=false&visual=true" width="100%" height="450″ iframe="true" /]