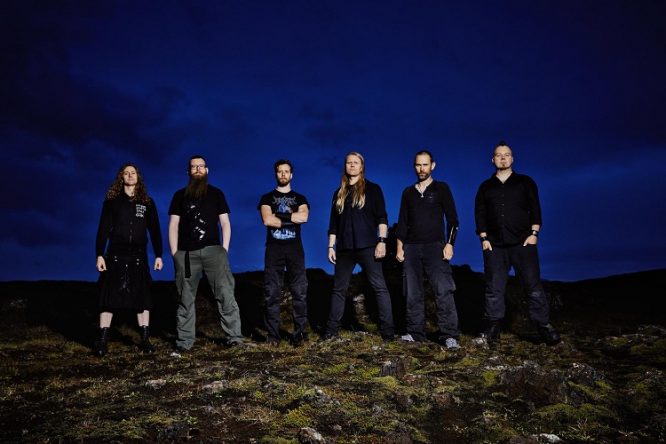 After having released the first details of their new album, Icelandic Viking metallers SKÁLMÖLD have premiered a brand new lyric video which offers much more than your average lyric video. Check it out below.
"Niðavellir" is the first track off of the upcoming album entitled Vögguvísur Yggdrasils – out on September 30th via Napalm Records.With a perfect Nordic backdrop, the fourth full-length by these genre heavyweights moves smoothly from highly melodic, epic Viking metal to picturesque folklore. We can't wait to hear more!
Get your pre-order now here.
The band will be heavily hitting the road in Europe together with Korpiklaani and Moonsorrow. Don't miss this nice package live on tour:
KORPIKLAANI, SKÁLMÖLD
24.10.16 PL – Gdynia / Ucho
25.10.16 PL – Warsaw / Proxima
26.10.16 PL – Wroclaw / Alibi
27.10.16 PL – Katowice / Mega Club
28.10.16 SK – Bratislava / Majestic
KORPIKLAANI, MOONSORROW, SKÁLMÖLD
29.10.16 CZ – Prague / Club Meet Factory
30.10.16 AT – Vienna / Szene
31.10.16 AT- Graz / Explosiv
01.11.16 IT – Bologna / Zona Roveri
02.11.16 IT – Milan / Alcatraz
03.11.16 AT- Innsbruck / Hafen
04.11.16 CH – Lausanne / Les Docks
05.11.16 CH – Solothurn / Kulturfabrik Kofmehl
06.11.16 CH – Winterthur / Salzhaus
07.11.16 D – Aschaffenburg / Colos-Saal
08.11.16 D – Lindau / Vaudeville
09.11.16 D – Nürnberg / Hirsch
10.11.16 D – Köln / Essigfabrik
11.11.16 NL – Zoetermeer / De Boerderij
12.11.16 D – Hannover / Musikzentrum
13.11.16 D – Hamburg / Klubsen