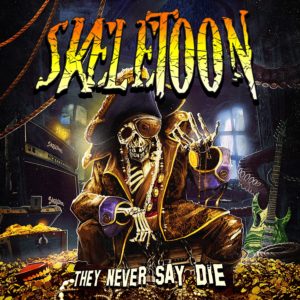 Get generous doses of Helloween, mix with a pungent Power Metal grip with catchy choruses and riffing and lots, but lots doses of epic cadences and here we have Skeletoon "They Never Say Die." At first I thought it would one of those mocking bands that appears once in a while. To be frank, I don't like them. I know that most people do because they're fun, but it's not the kind of fun Metal needs. Just stating an opinion. So, I went down to their press-release to check their deal out. Alright, not a mocking devious band. They are in the geek business and pay a homage to the 1980s Power Metal. Hum, okay the. Let's hear it, shall we?
What I have to say that is I've never seen a band so clear about their intent, and so honest. What your hear is what you get. No more, no less. Moreover, "They Never Say Die" has positive vibe. It's an album that makes you feel better and up. All songs are in agreat vibe with uptempo cadences and epic gripping. Skeletoon really got the right vibe of 1980s Power Metal bands, most specifically Helloween. I, particularly, used to like Helloween a lot. Their first efforts were wonderful. To me one of the most influential bands ever as we can see by all the respect Skeletoon pays. The big difference is that "They Never Say Die" has lots of keyboards and classical sequences which bring them straight ahead to the 21st century. But all the rest is pure 1980s.
It's really hard to stand out a track. They are all very linear – remember, not a bad thing. As I said, Skeletoon pays a very decent respect to Helloween. It doesn't disappoint Power Metal fans because it stands on higher, and solid, grounds. There are no surprises, but remember, it's a great deal these days.
Skeletoon "They Never Say Die" was realised on March 08th via Scarlet Records.
Track Listing:
Hell-O
Hoist Our Colors
The Truffle Shuffle Army_ Bizardly Bizarre
To Leave a Land
They Never Say Die
Last Chance
I Have the Key
The Chain Master
When Legends Turn Real
Farewell
Goonies R Good Enough
Watch "They Never Say Die" official video here: