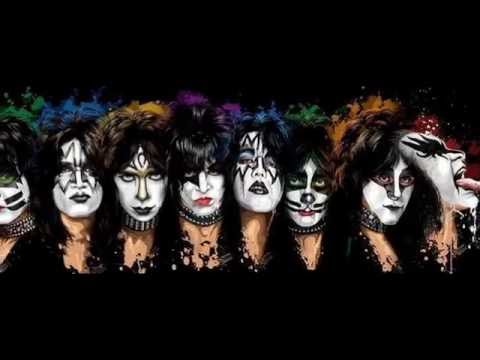 If it were only about Mr. Simmons opinion, this article would never be written. His first view to Kiss was to be everything John Denver wasn't. He had the healthy pretension about Kiss to be the heaviest and dirtiest rock band ever and parents shouldn't like it at all. If you consider the early 1970s, the band did pretty well. First album "Kiss" has "Black Diamond," which isn't a ballad, though its sweet intro to go on fire soon after.
"Goin' Blind" is Kiss' first ballad which comes in 1974's "Hotter Than Hell." Guess who sings it. Yes, the guy that didn't want ballads, Gene Simmons. Easying a bit on the guy, "Goin' Blind" isn't really a ballad, it is more a slow theme. Fun fact about it: a year later in 1975, Rush, which went on tour with Kiss, recorded a kind of parody called "I Think I'm Going Bald."
It is in 1976's "Destroyer," to many the best Kiss album, when Kiss balladeer verve begins. At first, Mr. Simmons couldn't agree on recording "Beth" because he considered it would ruin Kiss image due to its sweet piano and vocals. But he was convinced by Peter Criss and Bill Aucoin, who was the band manager at that time. "Beth" was deliberately left to side B in order to make radio stations play "Detroit Rock City" instead. It was a commercial blast, and Mr. Simmons was obliged to review his opinion about ballads. There is also "Great Expectations." Who sings it? Yes, again. The guy who didn't want any ballads: Mr. Simmons.
"Rock and Roll Over" brings us the gorgeous "Hard Lucky Woman" sang by Peter Criss, who got the post after "Beth's" success. He was blessed by Mr. Simmons.
1977's "Love Gun" presents us Paul Stanley's debut as a ballad singer in "Then She Kissed Me," a "The Crystals" cover.
In 1981, Kiss released "Music from the 'The Elder'," their first concept album. There is "World Without Heroes" and its nice and touching lyrics.
https://youtu.be/AWacBpIqhYU
Paul Stanley definitely takes over vocal duties on ballads in "Creatures of the Night" and then it comes "I Still Love You," Kiss first power ballad.
"Crazy Nights" takes Kiss all the way to the world of power ballads with the powerful "Reason to Live."
"Hot in the Shade" is next with "Forever," which was a real blast.
"Revenge" brings us "Every Time I Look at You," one more efficient power ballad.
Kiss returned to their original formation in "Psycho Circus," and master balladeer, Peter Criss regains his post in "I Finally Found My Way," but with whom does he have to share it? Paul Stanley? No, Gene Simmons with "We Are One." If memory serves us right, is he the guy who didn't want any ballads?
Well, from then on, Kiss recorded two more albums: "Sonic Boom" and "Monster," which I confess I have never listened to. But, don't you agree it is pretty okay for a band that didn't want to record ballads?