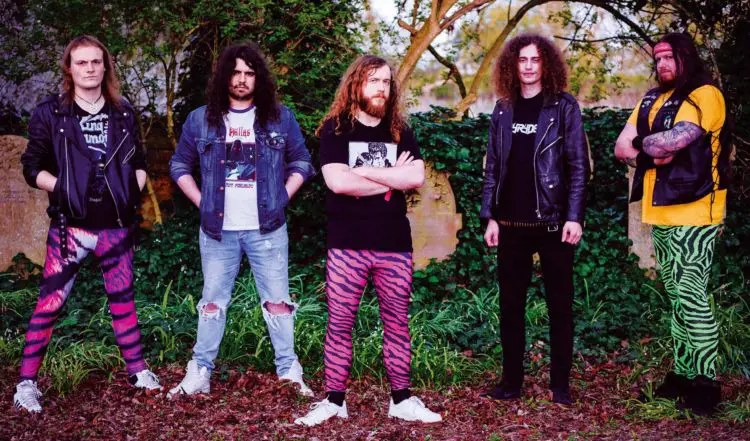 Following in the footsteps of Amulet, Wytch Hazel, Seven Sisters, Dark Forest and Toledo Steel, SKYRYDER are another name to be added to the growing list of protagonists of the new wave of New Wave Of British Heavy Metal. The roots of the band go back to the year 2016.
Based in the North East of England, the different band members are actually scattered across the country. Adam Thorpe (guitar) and Luke Williams (bass) are from the Durham area, Jonny Stern (guitar) is from Teesside, Andy Macknight (drums) comes from Sunderland and Luke Mills (vocals) is from Portsmouth on the South coast.
Last year High Roller Records re-issued the band's debut EP "Vol. 1." "Vol. 1." is now followed by "Vol. 2" (which seems quite logical). What are the main differences? Less NWOBHM and more power metal? Adam Thorpe explains: "I think "Vol. 2" has got a more developed sound compared to "Vol. 1." This is down to everyone coming together to write and we all took the idea and ran with it. Collectively we have a really eclectic taste in music and it definitely has had an impact on the sound, which we really hope sets it apart from "Vol. 1." We didn't set out with an intention of straying either side of the line, we walk between power metal and heavy metal but there's no complaints if we do."
He continues: "Starting out originally, it was supposed to be just a project. So initially it was just going to be a one-off release. However, upon completion the story just didn't feel finished, so this time around we've finished off the initial story. For »Vol. 3« (which we doubt will be the title) nothing is set in stone as of yet but we are writing now as we've finished 'Vol. 1.'"
"Virtual Humanity" off "Vol. 2" starts quite folky, showing shades of Dark Forest at the beginning … Bands like Seven Sisters, Dark Forest, Amulet, Wytch Hazel and SKYRYDER, are they all supporting each other, is there a united scene of new traditional metal bands in the UK? "Yeah we agree, we just like pushing ourselves to try things we haven't before," confirms Adam Thorpe. "I think there's a lot of mutual respect between all the bands. Plus the scene in the UK is pretty cosy, so everyone pretty much knows everyone. We love seeing the guys play  and even more so if we are playing alongside."
Read our review here.