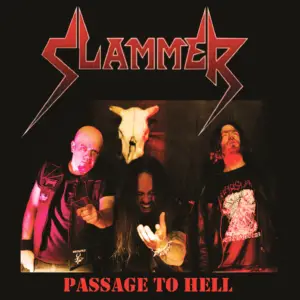 Have I told here that I just love Speed Metal? That when I wonder about a Metal song it comes to my mind the speed-of-light tuh-tah-tuh-tah drumming with a blazing guitar and vicious out-of-this Earth vocals wrapped by a cavernous bass? I guess I have already, but it's always great to make the stand again and again. The band we have here today fills in all those above. Slammer with "Passage to Hell" remind us that Speed Metal is alive and kicking. Moreover, it's here no fill any nostalgic feelings, but to evolve and make us happy with good fast music. The best is when it kicks off with a moody and acid track as "Ignis Corpora." I like a lot this pseudo-groove the guitar riff has. There is also a martial cadence that spices the mix making the fan wonder that soldiers from hell will kick out at any moment. It's even possible to feel the evil it sweats. As I said before, Speed Metal is evolving as hell.
There is a worldwide web of bands which play the good old Classic Heavy Metal. Many bands are recreating the killing fields bands as Accept, Acid, Running Wild and others traced as second and title track "Passage to Hell" goes making all hell break loose with a speed that reminds a lot early Slayer records. The fan may feel the blood dripping from the ceiling. "Passage to Hell" is followed by "Sons of Evil" which keeps the faith with a fast uptempo cadence and a catchy chorus as the teutonic tradition tells to. The blood is now splashing all over the room. The place is looking like a musical manslaughter. Next track "The Antichrist's Rage" has a slower grip, but keeping the thrist for blood as their peers. The highlight is the chorus and the vocals which sound at the same as a demon mockery and some shrieking from a witch or the likes. Its end is anthemic. The blood is now flooding the room. There is blood everywhere and the killing never stops because "The Slammer" is also slower but pungent and with a strong chorus. "Passage to Hell" is an EP though its strength is of a full-length. There is a lot going on in it and Slammer never seem tired of the bloodshed. The grand finale is "Throne in Flames" with the well known speed-of-light tuh-tah-tuh-tah drumming. It was fun!
"Passage to Hell" is the product of some twisted sick minds that struggle with pride and authenticity to survive in these dazed and confused days. Slammer show that very healthy "I don't care" attitude that any Metal  band should have not caring for trends or musical critics. Ah, there are rumours that a full-length is on the way. Great news.
Slammer "Passage to Hell" was self-released in 2019.
Track Listing:
Ignis Corpora
Passage to Hell
Sons of Evil
The Antichrist's Rage
The Slammer
Throne in Flames
Watch "Passage to Hell" alive video here:
888