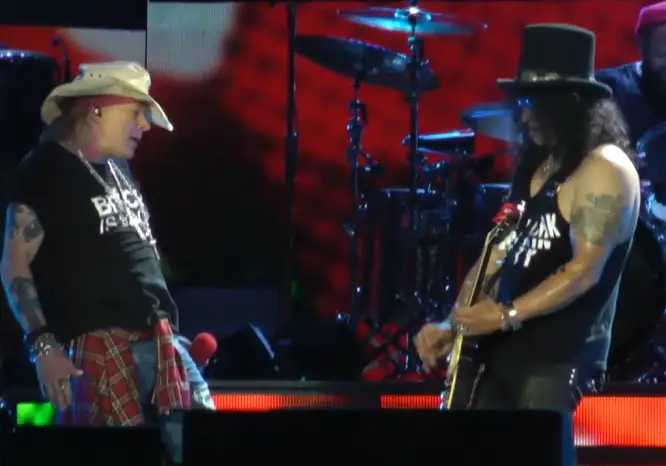 Slash recently spoke about the possibility of GUNS N' ROSES working on new studio album during his appearance on TVK.
He said: "Axl [Rose, vocals], Duff [McKagan, bass], myself and Richard [Fortus, guitar] have all talked about… there's material and stuff going on already for a new record," he confirmed (see video below). "It's just, with GUNS N' ROSES, you don't go, 'Oh, there is a plan, and it's gonna be like this,' because that's not how it works. So, basically, the only real answer to give is we're hoping to put a new record out, and we'll just see what happens when it happens."
Discussing on the band's reunion tour, Slash said: "It was surprising in and of itself when we got [back] together in the first place. And then the first show that we did was magic — that was unbelievable. That first series of shows that we did around Coachella back in April of 2016, it was just such a huge thing. For the guys in the band — for myself to be on stage with Duff and Axl and just have that chemistry was so powerful. You forget, because it had been a lot of years since I jammed with both those guys, and it was really powerful. And one thing led to another, and we just ended up having this amazing tour that you couldn't possibly dream of. It was a really great tour. And it lasted a really long time. I think it was the longest tour we ever did. It was about two and a half years."
GUNS N' ROSES' latest studio album, "Chinese Democracy", came out in 2008 and featured only Axl from the classic lineup.