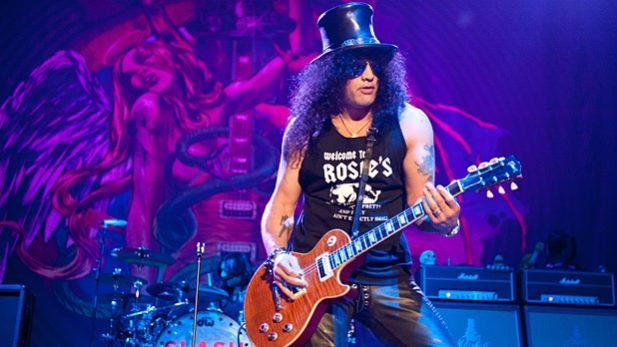 While he was speaking to Elk Grove Village, Illinois to promote the new GUNS N' ROSES pinball game, Slash paid a tribute to Eddie Van Halen, who passed away on October 6.
"I'm just a little shocked," Slash told WGN News. "It's hard for me to verbally say anything, other than I'm just devastated. Eddie was really cool. And I've been talking to him — we've been texting.
"And I knew he was sick, but I didn't wanna ask him how sick he was. But he was in a hospital in L.A. for a while. And I knew [expletive] was up, but I didn't expect that today at all. So I'm floored."
When asked what he thinks Eddie's legacy will be, Slash responded: "Eddie changed guitar playing. I picked up the guitar, I guess it was 1979, 1980. The first VAN HALEN record came out, and Steven Adler, who was GUNS N' ROSES' original drummer, when we were kids, we used to just hang out and ditch school and go to the pizza place and whatnot.
"And we used to listen to that first VAN HALEN record, and it was just insane. "It was, like, 'What the [expletive]?'
"He changed guitar playing. He was such an amazing musician, amazing guitar player, amazing innovator and just a hell of a guy. And we really lost a major contributor to rock and roll today."
Eddie's death was confirmed by his son, and VAN HALEN bassist, Wolfgang Van Halen.
Wolfgang wrote on social media: "I can't believe I'm having to write this, but my father, Edward Lodewijk Van Halen, has lost his long and arduous battle with cancer this morning.
"He was the best father I could ever ask for. Every moment I've shared with him on and off stage was a gift.
"My heart is broken and I don't think I'll ever fully recover from this loss," he added.
"I love you so much, Pop."