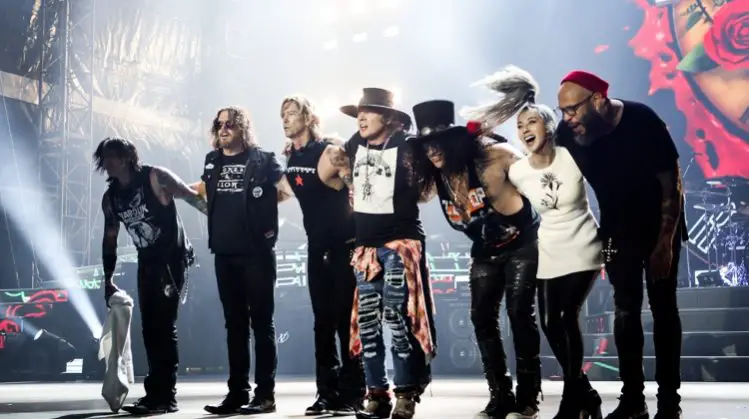 Last week, Australian GUNS N' ROSES fan page, posted a rumor that band is working on a new song for the upcoming Terminator: Dark Fate movie.
Source noted: "A source who was working On Terminator Dark Fate has informed that 4 members of Guns N' Roses went to a private viewing of a rough copy of the upcoming Arnold Schwarzenegger sequel movie to see if they want to put a song on the soundtrack. Apparently, Slash was at Axl's house to record overdubs on a song for the rush release. At this point the song name is unknown. But yes 100% verified. Guns N' Roses new music."
Now, in a new interview with Trunk Nation, guitarist Slash says that band is not working on a song for new Terminator movie, but has once again confirmed that GUNS N' ROSES are definitely working on new material.
"These rumors, they take off and then they get a life of their own. And you can't reel 'em in. They just sort of get tossed around in the wind. Anyway, but, yeah, so there's nothing in there, in that.
"We're just doing this one run [of shows] in the States and a couple of dates in Mexico end of this month into November," he continued.
"And so that's it for Guns for now. And I think we have something coming up in March as far as touring is concerned. Obviously, everybody knows that we're working on new material, which is really exciting, and so, that's really primarily what the focus is."