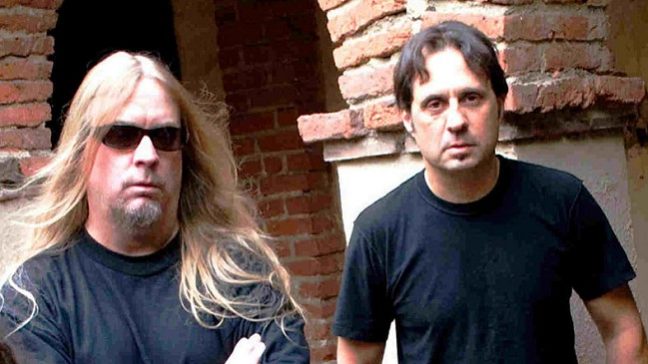 Former SLAYER drummer Dave Lombardo has penned a touching tribute to the band's late guitarist Jeff Hanneman.
Lombardo, who was the founding drummer in SLAYER and has played with them off and on since their formation, told Metal Hammer: "Towards the end of his time in SLAYER, [Jeff] had gotten to a point where his performance wasn't up to par with the rest of the band. The alcohol was taking its toll, and so were the operations he had had. It was sad, but we had to make the decision and break the news to him. I know that it crushed him.
"Before all that went on, we didn't know how long Tom [Araya, bass/vocals] wanted to continue, 'Cause he was contemplating retiring even back then. So Kerry [King, guitar] and I were talking about putting a band together, and we said, 'We need to recruit Gary Holt,' 'cause we knew him from EXODUS. As it turned out, Gary became the guitar player that took Jeff's place, and that was approved by Jeff. He was a big fan of Gary's playing — Gary had that feel and soul that Jeff loved in guitar players."
According to Lombardo, Hannemann would have been the against the idea of SLAYER calling it quits. "If Jeff was still here and still in SLAYER, he wouldn't want to retire," the drummer said. "He'd fight to keep the band going. He'd have taken the band by the horns and driven it on. His love and his passion was music and being onstage. That passion was dampened by toxins, but it was still there."
Lombardo singled out one SLAYER song that he thinks defines Hanneman: "If there's a single SLAYER song that really defines Jeff, it's "Necrophobic" from Reign In Blood. That was one of the fastest songs we'd done: it had this aggressive, brutal, almost monotonous sound. He'd walk around, just mimicking that sound. I remember him going, 'This one's fast, it's brutal, we're going to take it to the limit, to the point where we can't play it any faster.' And that's what we did."
You can read Lombardo's entire tribute here.
Hanneman died of liver failure on May 2, 2013, in a Southern California hospital near his home. On May 9, 2013, the official cause of death was announced as alcohol-related cirrhosis. Hanneman and his family had apparently been unaware of the extent of the condition until shortly before his death.