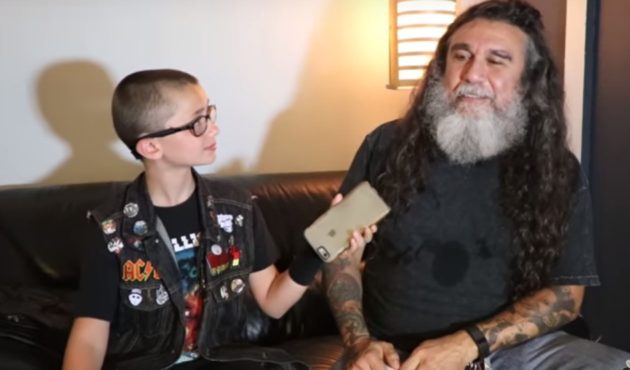 12-year old Elliott Fullam of Little Punk People hung out with SLAYER frontman Tom Araya backstage at their show at the Electric Factory in Philadelphia yesterday (Sunday, July 23rd). You can watch the whole interview below.
In this candid interview, Tom talks about how he misses late guitarist Jeff Hanneman and wishes he could have done more for him in his last years. He also discusses the possibility of their next record, humanity, the Repentless comic and how he believes that the world isn't going to get any better, bringing an inevitable apocalypse.
On whether he ever thinks about Jeff Hanneman when he is onstage playing with SLAYER, Tom replied:
Tom: "Yeah, yeah, because I look over and I see Gary [Holt, SLAYER guitarist] playing, but, yeah, I think about him. Especially when we do songs that me and him co-wrote. Me and him were collaborators — we wrote a lot of songs together, me and Jeff. So there's a lot of songs that we play where it's, like… And then this new album [2015's 'Repentless'], it was kind of a collaboration between me and Kerry, but not. [Laughs] That's a clue. [Laughs] That's a clue right there; I just gave you a big clue. But, yeah, I think about him a lot. Especially when we do… 'cause we always end our set with 'Angel Of Death', and that's a tribute to him. So, yeah, I think about him. You just wonder… You always think about how you wish you could have or should have done things different that went on towards the latter period of his life. In hindsight, you always wanna do… you think you should have done more, and that's how I feel: I feel like we could have, or I should have done more to help him."
In September 2015, SLAYER released "Repentless", the band's 12th studio album, the first without Jeff Hanneman and first with producer Terry Date, to widespread rave reviews and the highest chart debut of the band's career. The band also teamed up with director BJ McDonnell for three high-concept and brutal music videos for the album's "Repentless", then for "You Against You," and the most recent, "Pride in Prejudice".