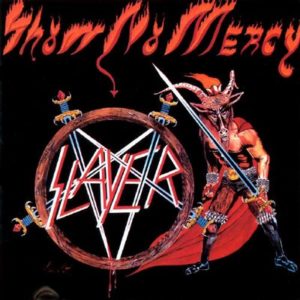 Today is the International Day of Slayer. I'm not really sure, but I guess only Slayer have this priviledge of having a day of their own. It's really a bigh thing. No other band has had so much influence on Extreme Metal than Slayer. Not Metallica, not Megadeth, maybe Bathory, but no other band has influenced so much in the music and aesthetics of other Extreme Metal bands. Slayer weren't the first to explore the inverted crosses, demonic, devilish, images and iconography, nor lyrics about genocide, torture, political issues, and other indigestible subjects to the laymen. The thing is that Slayer sounded and acted true. The band, besides some recent Araya's statements, has been truely loyal to what it stands and perfomed on stage and record history. To many Slayer are the real deal on Extreme Metal. And, from where I'm standing, this isn't very far from the truth. Slayer are a phenomenal band and there is no denying of that.
So, I chose one album to homage this great Metal band in their day. The album I chose may not be the natural choice for many Slayer fans, but it has an emotional component to me as it was the very first Slayer album I heard: "Show No Mercy" and coincidentally their debut album back there in 1983. Back then in the 1980s circa 1985 I had a friend who was a huge fan of the band and all early Extreme Metal bands as Voivod, Possessed, and others. I and other friends were for the NWOBHM. To him many of the bands as Saxon were sold outs, except for Iron Maiden a band that he simply loved. To us those bands were pure noise and a pile of turd. However, secretely, those bands did have something that attracted me. Slayer were the first of them which I used to hear secretely at home. Venom were the second. I can't remember exactly how I got into "Show No Mercy," and how I got the play. But it was sometime later. The impact of it on me was also huge. So huge that I had the dream of having a band which would the lost link between AC/DC and Slayer. I wanted my would be band to be so energetic and exciting as they were.
Many of you may not know but in their early garage days, Slayer used to cover Judas Priest, Iron Maiden and Mercyful Fate with some dashes of Venom. This perfectly heard in the album. However, there is the Slayer component which are Araya's vocals which were harsher than the usual of the time with some out-of-tune falsettos, Lombardo's fast drumming adding the double bass drums technique that would be a component of each Speed Metal band and the kick off to Extreme Metal drumming, and King's and Hanneman's guitars which in some solos may sound out of place. The release of "Show No Mercy" was some kind of counterpart to the rise of the so-called Glam and hair Metal showing how "true" Metal should be. The idea soon conquered many fans. The effect of listening the album in the 1980s as I did, and now as many fans will, pay the price. Compared to what bands do now, "Show No Mercy" isn't the fastest, the scariest, the gloomiest or even the heaviest album ever, but the impact in 1983 was huge.
"Show No Mercy" opens up with "Evil Has No Boundaries" a song that should be inducted to any list of best and perfect Metal tunes ever. Even today when I listen to it, and I do it regularly, it sounds smashing and scourching. Lombardo's drumming runs over me as those big road rollers, King's and Hanneman's guitars still astonish me with their speed and notes. "Evil Has No Boundaries" showed a band that knew they would be big. This can be felt in each note, the power, the glory, the blasphemy. Following track even though of its name "The Antichrist" isn't the heaviest and fastest song in the album. Rather that, it's pretty NWOHBM with Slayer touches. Araya does here his best job of the album. His voice is harsh and able to give his now well-known falsettos – in tune this time. "Die by the Sword" has Slayer typical lyrics and shows that guitar duo King-Hanneman is about to conquer the world. My favorite part is the wall of the sound they built in the middle of the song. This song has remarkable riffing all over it. In it Slayer show the world a feature that would be a stapler to all Extreme Metal bands in this sad and lonely and miserable little pathetic world, this is the fast changes of tempo and cadence. "Fight Till Death" is a bit faster and Lombardo shows how creative he could be. The epic and grand opening of "Metal Storm/Face the Slayer" amazes. It causes the fan great expectations and it's a track that detaches a little from the content of the album with the guitar duo to make it rain with the sharp and rather spontaneous riffing. "Black Magic" is just epic. Its initial sole guitar riffing is simply fantastic with the instrumental crescendo which culminates with Lombardo's fast drumming. This drumming would be a constant in early Extreme Metal bands. Guitar duo here does also the fast guitar riffing which would also be a constant in the 1980s Extreme Metal. Iconic song for an iconic album. Notice that the well-known breakdown that would be used by 11 in 10 Extreme Metal bands is presented here. The dazzling guitar main riffing is the best thing of "Tormentor." Pay attention to Lombardo's drumming and how he does the fillings. The guitar solos based on licks and hammering here are what early Death Metal guitarists would do for such a long time. Interesting that the name of the song only appears in the end of the song. "The Final Command" is another fast cadenced song and it kind of gets a little forgotten inside the album. I don't know why it's a song that I don't pay much attention. And then comes the epic and grand "Crionics" with its great guitar riffing and Araya's best vocal performance combining the harsh voice with some clean stuff and showing that he can do much more than only growl. It's the track the fan will notice the biggest Iron Maiden influences in the guitar passages about in the middle. The kind of guitar duel presented here is a feature that was pretty common that time. And then comes the grand final e with tittle track "Show No Mercy." Grand finale.
I know that compared to the rest of Slayer's career "Show No Mercy" sounds a bit awkward and maybe even out of it, but it's the grand debut of one of the greatest bands of all times. Just it.
Slayer "Show No Mercy" was released on December 3rd, 1983, via Metal Blade Records.
Track Listing:
Evil Has No Boundaries

The Antichrist

Die by the Sword

4. Fight Till Death

Metal Storm/Face the Slayer

Black Magic

Tormentor

The Final Command

Crionics

Show No Mercy
Listen to the album here: