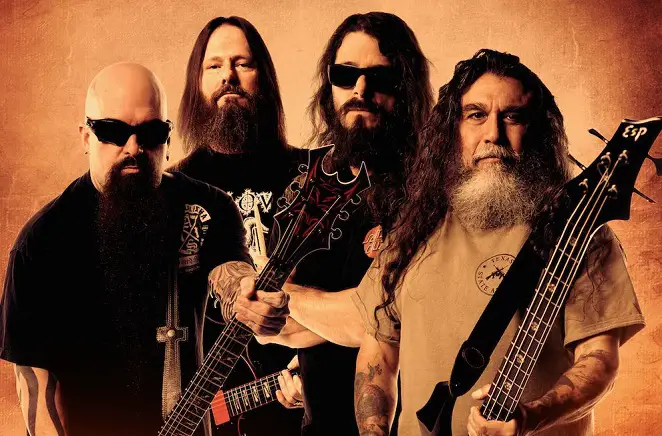 SLAYER is set to do a takeover of San Diego Comic-Con International (SDCC). The occupation will begin on Thursday, July 21st with a special live performance at the intimate-capacity House Of Blues. Tickets go on sale this Friday, May 20th at 10 AM, PT. For ticket and purchasing info, log on toSlayer.net.
Said SLAYER's Kerry King, "Comic-Con?!? I can't believe they are gonna let us shred the HOB San Diego!! It will definitely be a night of fury and intensity that the city won't soon forget. We will be coming off a seven week European run, so Slayer's guns will be blazing!"
The invasion will prove evil has no boundaries as SLAYER also will execute two very exclusive signings inside the walls of San Diego Comic-Con with a brand new publishing partner, Dark Horse Comics. These signings will take place Friday, July 22, booth #2615, and at the Nuclear Blast Records booth, #501.
But this Comic-Con captivity gets even better. SLAYER recently partnered with BMX brand Subrosa for the four-bike "Cradle to Grave" collection, comprised of the Slayer Balance, Slayer 20, Slayer 26, and the Slayer Urban Terrain Bike. All of these bikes are intended for BMX bike riders to "use and abuse," and some of the models will be on display at the Nuclear Blast Comic-Con booth (#501). The entire Subrosa/SLAYER "Cradle to Grave" collection will be available worldwide in October.
"My brother, my friends and I used to ride bikes in the early seventies," said SLAYER's Tom Araya. "We built a figure-eight track with ramps in my backyard where we would race and crash into each other. It was a precursor to BMX. We would go around the neighborhood to collect bikes that people had thrown away to salvage them, so it's cool to see Subrosa building a line of SLAYER bikes."