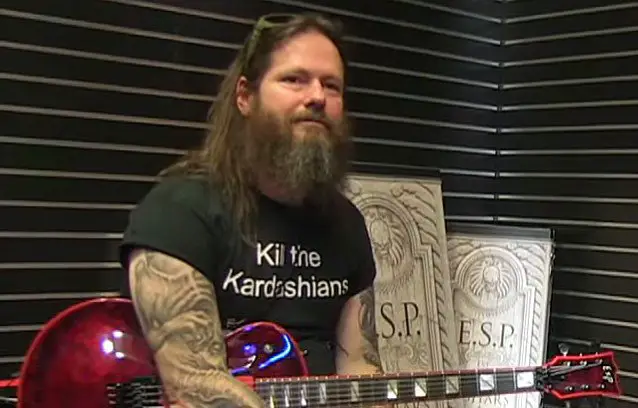 This past Saturday at the NAMM show in Anaheim, California, Castiglia and SLAYER/EXODUS guitarist Gary Holt officially revealed a custom-painted Gary Holt signature ESP electric guitar, detailed completely with Holt's very own blood. The blood was drawn from Holt backstage after a SLAYER show on Long Island, New York. Castiglia collected 18 vials, all of which were used on the guitar.
It's the first time Castiglia has used blood on a guitar, although he's well-known for using it on other materials. He says: "I pushed it as far as was physically possible in terms of detail – the subject matter, look and feel, and functionality of the piece are all in perfect line with my work.
"It's a functional piece of fine art that memorialises Gary's life's work with his lifeblood. It was an honour to work so intimately with Gary and ESP on this project – which was literally bonded by blood."
Holt says: "The blood guitar is painted with 18 vials of my own blood. To say I was stoked is an understatement! I'm looking forward to taking this one-of-a-kind piece of dark art out on tour in February."
ESP director of artist relations and product management Chris Cannella adds: "When this whole project came up, I was excited at the idea. I was already a fan of Vincent Castiglia's work as an artist and tattooist, but this was something I was cautious of. Was it going to be another gimmick of blood in the ink, etc.? Blood drips or something easy to do? When I saw this come to fruition my jaw dropped! Such beautiful detail and accuracy!
"This guitar will not be for sale as it was just finished just for Gary Holt, but we wanted to show it at the booth at NAMM with Gary and Vincent to tell the story best. I am sure people's minds were blown even as it is not yet assembled."