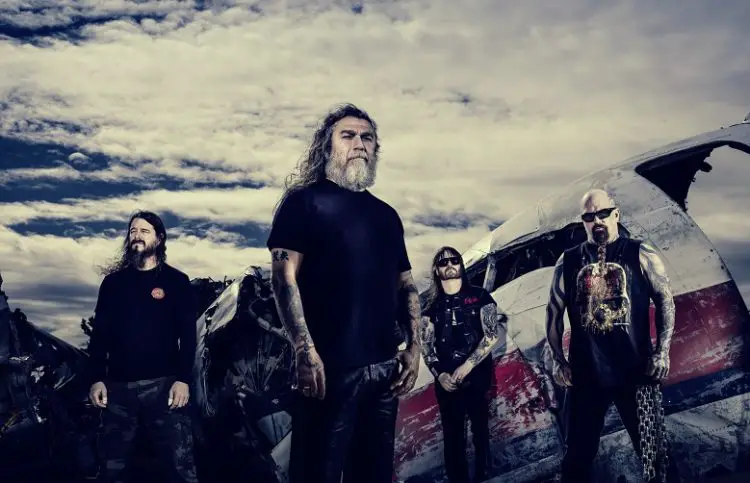 Last week, SLAYER announced that it had joined Rick Ware Racing as the primary sponsor for the No. 54 entry at tomorrow's Bristol Motor Speedway.
But now, reportedly due to "reactionary concerns from other longtime participating sponsors," SLAYER has been pulled as the primary sponsor, and all SLAYER signage has been removed from the car that was to be piloted by Monster Energy NASCAR Cup Series veteran JJ Yeley.
The incontrovertible PODS Moving & Storage will now sponsor that car.
FOX Sports NASCAR reporter Bob Pockrass shed more light on the change in a tweet earlier today. He wrote: "For those asking about the Rick Ware Racing SLAYER sponsor that was on the entry list, Rick told me that was the tentative plan but he ended up not doing the deal."
When the SLAYER–Rick Ware Racing pairing was first announced, SLAYER bassist/vocalist Tom Araya asid: "It's exciting and awesome that Rick and the boys are wearing the SLAYER banner making us a part of NASCAR history!"
SLAYER guitarist Kerry King added: "NASCAR racing and SLAYER have a lot in common. Both are extremely fast, intense and aggressive. I can think of nothing more rad than seeing the SLAYER logo on Rick's car with JJ behind the wheel. I'm sure Disciples of everyone involved will be completely stoked on the bond between these two fierce entities."
Yeley said: "I am super pumped to have the legendary metal band SLAYER on my Rick Ware Racing No. 54 Chevrolet for one of the greatest races of the year, The Bristol night race! Being able to showcase the legacy that SLAYER has created over the past 40 years is a true honor."
The Final Campaign, Leg Seven of SLAYER's Final World Tour, kicks off in Asheville, NC on November 2 and will wrap with two nights at the L.A. Forum on November 29 and November 30, seeing the band end its touring career in Southern California where it all began back in 1981**. PRIMUS, MINISTRY and PHILIP H. ANSELMO & THE ILLEGALS performing a vulgar display of PANTERA, will support on all dates.
Tickets for those dates are available here.