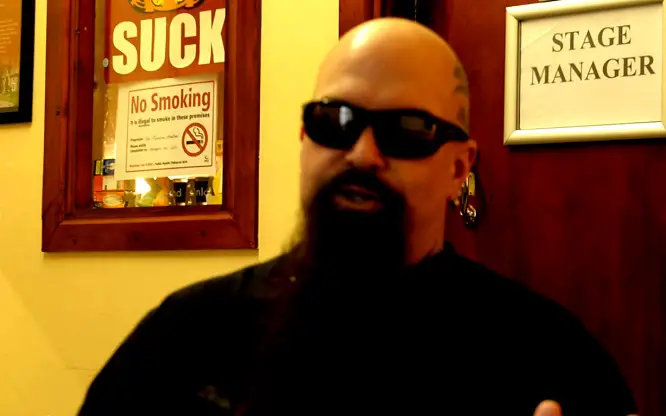 SLAYER axeman Kerry King and his wife have relocated to New York City.
Ayesha King broke the news of the move in an Instagram post, writing. "I suppose it's time to tell you all that the King and I have moved to NYC ( back home for me, excited to be near my family again ). I figured I'd beat some acquaintance's friend buddy who it heard it from a guy to announce it and think he's cool. I served my time on the west coast for 18 years. Time to be back in the best city on earth."
Last year, King paid $3.81 million for a home in a section of the Las Vegas Valley known as Enterprise. Clark County property records still list the couple as the owners of the 5,116-square-foot house.
In a recent interview with Metal Hammer magazine, King discussed his new music he's working on in the two years since SLAYER completed its farewell tour.
"I had picks that I threw out at those shows — 'The Final Campaign' — at the end of the show. And in every city, I threw out two that said, 'Reborn in 2020,' because that was my plan — I planned on touring in 2020," King said. "Then the pandemic came up and we were into 2021, because I want everybody to get the bumps out of the road before I go out.
"Here we are at the end of 2021 and I'm looking at the end of 2022 now. And we'll see what happens next year because it's evolving. I don't want to go out and feel stuff out, I want to go out and have a good time. I'm not being selfish, I don't mean it like that. I mean that whatever the new rules are, I want them to be smooth before I go out."
When asked as for why he hasn't said more about his future plans yet, King responded: "I'm dragging my feet on letting the world know what I'm doing because there's no rush. I have a tour that I'm considering doing, but I'm not going to announce a band, I'm not going to announce a record, I'm not going to announce anything. But you will see me in the future — it will be f*cking good."
In a previous interview with Australia's Riff Crew, SLAYER drummer Paul Bostaph has confirmed to be working on a new musical project with Kerry King.
Kerry King's post-SLAYER project has been rumored to feature SLAYER drummer Paul Bostaph, SLAYER/EXODUS guitarist Gary Holt and former PANTERA frontman Philip Anselmo.
SLAYER played its final show of their farewell tour in November 2019 at the Forum in Los Angeles. One day later, Kerry King's wife, Ayesha King, said that there is "not a chance in hell" that the thrash metal icons will reunite for more shows.