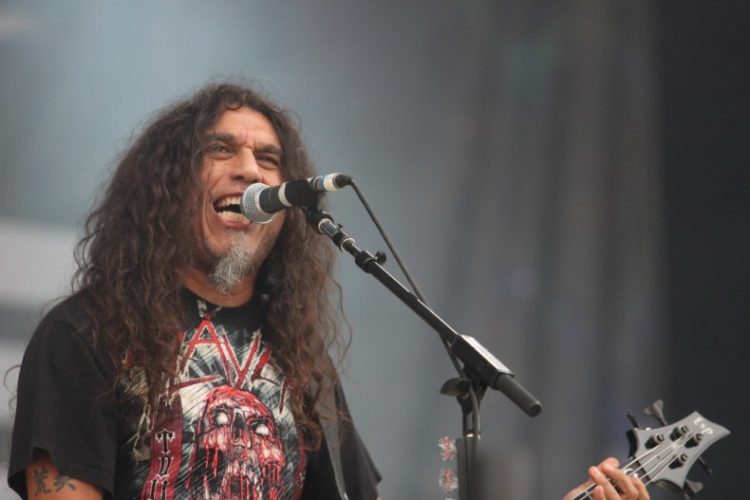 In a recent interview with Australia's Riff Crew, drummer Paul Bostaph talked about the end of SLAYER and whether Tom Araya is completely retired from music.
"I don't think Tom's completely done," Bostaph said. "He's a musician, you know? I think – I'm not speaking for him, it's just what I really think.
"He retired from SLAYER, but he may not have retired from music. So let's not throw Tom in the retirement completely. He's a musician, he's got a great voice, he may come out and do something of his own, just do what he wants to do in his retirement from SLAYER.
"That being said, did it bother me a little bit? I got lumped in with being retired — it didn't bother me, but it was just like, 'Man, I just want people to know that I'm not retiring.'"
"The assumption that I was done — I thought about it, but never put too much thought into it, so now that I'm thinking about it, I guess in a way for SLAYER to retire and for people to assume that I'm retired, that means they accepted me as a band member," he continued. "If I was some solo artist or something like that and people thought of me as a hired gun and not a band member, maybe they wouldn't have thought of me as retired, so to some degree, I guess that's why I didn't bother me.
"Because I'm like, you know, I always believed it's better to speak with your actions because your actions always show really what you're about. So the whole retirement thing didn't bother me partially because I knew Kerry and I was gonna get to it, start moving on with things this year. And then COVID-19 hits, and then the breaks got hit, so yeah, I'm not retired yet, I'm just itching to get to it."
SLAYER played its final show of their farewell tour last November at the Forum in Los Angeles. One day later, Kerry's wife, Ayesha King, said that there is "not a chance in hell" that the thrash metal icons will reunite for more shows.