After hearing such a blasting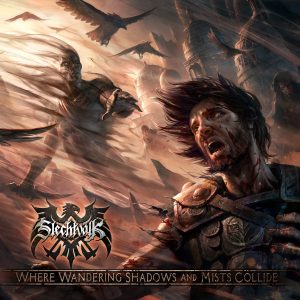 good black metal band I heard before to review, I thought it would be difficult to get to know something better, or even same level. For Christ's sake I was so wrong! I am talking about Slechtvalk's Where Wandering Shadows and Mists Collide, shortened to WWAAMC. "Wandering Shadows" presents one thing I love in metal music: open and honest yellings and screamings. It's such an art to place them well and correctly, but Slechtvalk really knows how. And the vocals are not really gutural, but angry. Let's say angrier than Mustaine's, if it's possible…
Let me begin by the song I liked most, the tittle track: "Wandering Shadows". The mix between classic metal instrumental with angrier vocals works diabolic nice. Vocals are not only angry, but even deeper bringing an inevitable contrast that makes my eyes water. I keep on saying here that musical creativity is not only doing something different, but also combining, experimenting. And they do that with the vocals, sometimes angry, sometimes deep, sometimes clean. Remarkable! Slechtvalk turned so good to me because they had the guts to experiment, to try, to break the rules! And then comes "Homebound" with a really catchy guitar mottif, and more vocals changes. And more screams! Too good to be true… And they are true.
The opening tittle "We are" is such a blast that may with no difficult please the fans of a more hardcore band. It's fast, cruel and heavy. And vocals are even angrier. The lyrics scape a little from the conventional role of themes death metal bands use. It's a social critic. By the way, the lyrics are a highlight of Slechtvalk, not onlçy because the chose different themes, but also because they are well written, and I must say something common to european bands.
Slechtvalk are a band that won't disappoint regular death metal fans, nor fans of genres of metal. Their music is in very good way varied, deep, and honest to disappoint, and fans like that.
You can listen to "We Are" below:
Track Listing:
We are
Asternas
Betrayed
March To Ruin
Nemesis
Rise Or Fall
The Shrouded Grief
Malagh Defiled
Wandering Shadows
Homebound