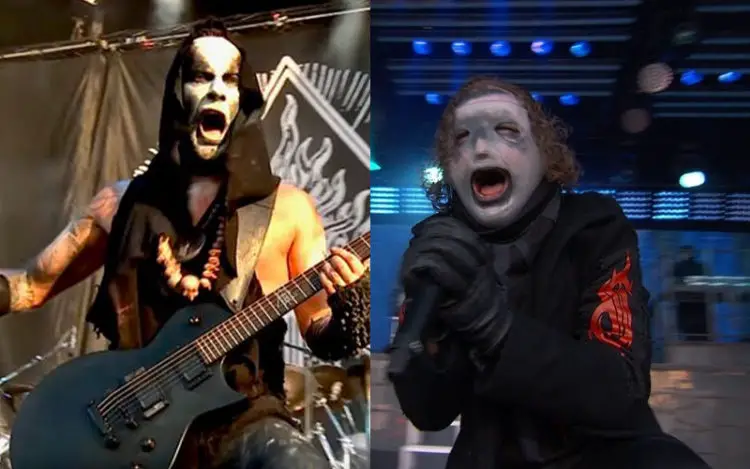 SLIPKNOT have announced U.K. and European tour with BEHEMOTH as special guest.
Pre-sale begins 27 August for OT9 Fan Club members and those who purchased an album from the Roadrunner Store. General Tickets & VIP go on-sale 30 August here.
Tickets will also be available at Metal Addicts Tickets.
Dates can be seen in the flyer below.
When talking about touring with SLIPKNOT, GOJIRA and VOLBEAT, BEHEMOTH frontman Adam "Nergal" Darski: "It's pretty much a European bill, which is cool. I really like the bill, because it's very diverse, the fact that we come from all sides of the world, really. Even [for] Europe, it's like, Denmark, Poland and France. It's spread out, so it makes it even more interesting and exciting, I believe.
"It's cool. One of the coolest things, I remember, when we were talking budgets, the first things we heard from [the] SLIPKNOT camp was, 'Hey, we're going to be generous when it comes to [your] offer, but we want every band to look amazing.
"We want every band to bring something to the table.' I really respect that kind of attitude. It feels good to have a band that actually cares. They care about you. They want you to look good. It's not a competition. It's a family vibe. It's supposed to be a family vibe — four different, very diverse bands on the same bill. Amazing."
SLIPKNOT released their sixth studio album, We Are Not Your Kind, on August 9 via Roadrunner Records. Album was once again recorded at a Los Angeles studio with producer Greg Fidelman, who engineered and mixed SLIPKNOT's 2004 album Vol. 3: (The Subliminal Verses) and helmed 2014's .5: The Gray Chapter.