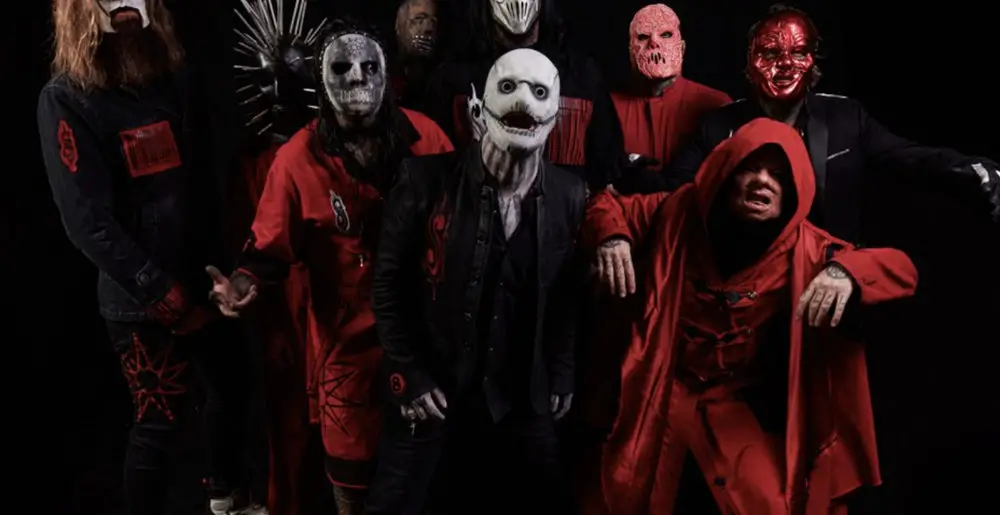 SLIPKNOT will release a new single, "The Chapeltown Rag," tomorrow, Friday, November 5. The track was produced by Joe Baressi, who has previously worked with AVENGED SEVENFOLD, QUEENS OF THE STONE AGE and CHEVELLE, among many others.
According to a lengthy piece with frontman Corey Taylor and percussionist M. Shawn "Clown" Crahan at knotfest.com, the initial inspiration behind the track came about from Taylor watching a documentary on the infamous serial killer Jack The Ripper.
Taylor described the song as "a punisher," saying it documents what happens when the distortions of mass media circulate within the echo chambers of social media.
"It's classic SLIPKNOT," said Taylor about the track, which is inspired by the West Yorkshire, United Kingdom suburb Chapeltown, best known for its connection to Peter Sutcliffe, a.k.a. the Yorkshire Ripper. "And it's frenetic. But lyrically, it's coming from a point of talking about the various manipulations that can happen when social media meets media itself. And the different ways that these manipulations can try to pull us in different directions, in the fact that we're all becoming addicts to it, which is very, very dangerous."
Clown also spoke of the material featured on the new album itself, offering "It's way beyond Slipknot, it's more like god music." He also stated that the record ended "the eras of searching for ourselves." The pair, who serve as the driving force behind Slipknot, also spoke about the loss of their former drummer Joey Jordison, who passed away in July of this year. His cause of death was not publicly revealed.
Asked if he misses Joey onstage, Clown said: "Well, see, the old clown would have made sure that you weren't allowed to ask those questions. But the new clown who's focused in on… not redemption or salvation or any of that horsesh*t… I'm f*cking human like everyone else: I'm on a life trip. And what I can tell you is that yeah, man, I'm greatly stricken."
Corey said about Joey: "It's been tough. You know, with Joey there was so much… you know, he was such a complicated guy. Probably one of the most talented people I've ever met. Maybe one of the most tortured. When I think about the good things, the tough things get in, and it's still taking me time to process. But the things I do remember, there were so many good times, so many great f*cking shows with him and just so many good memories of creating music with him. That's the stuff that I'm really trying to focus on."