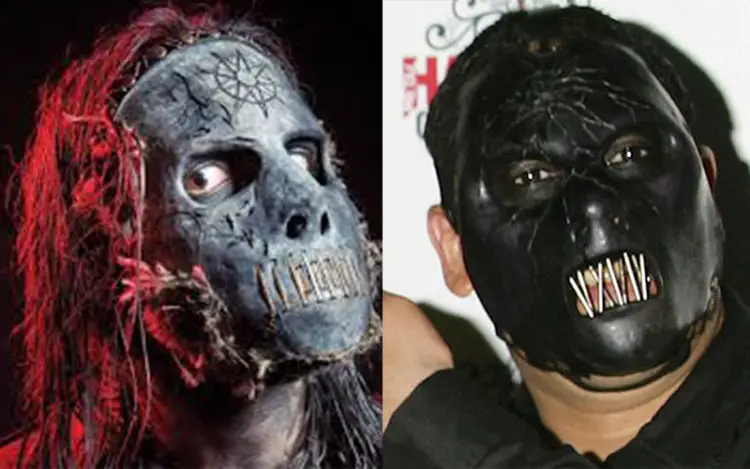 SLIPKNOT drummer Jay Weinberg has left an emotional note at Paul Gray's grave on a drumstick.
A Reddit user posted a photo of the drumstick, which reads, "Dear Paul – I hope you're proud of the music we've created. Your presence guides this band in spirit + and sound. I think you'll dig the new record. At least I hope you do. All the respect and love in the world. We are not your kind. Long live the Knot – Jay."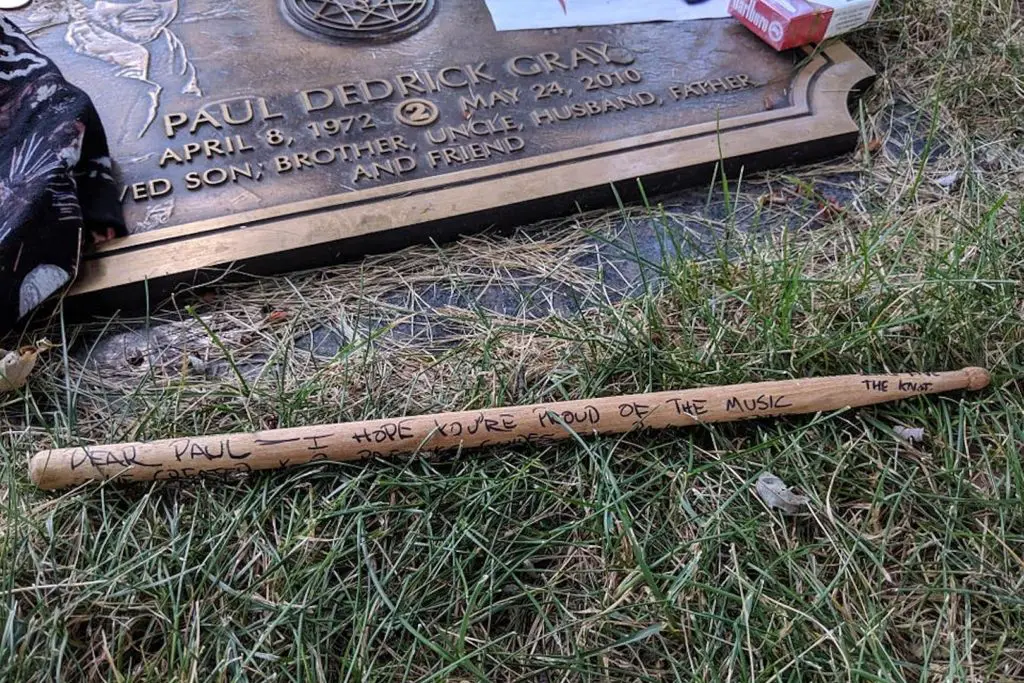 Gray was found dead at the age of 38 in a hotel room outside Des Moines, surrounded by drug paraphernalia. His death was ruled an accidental overdose of morphine and fentanyl, with his autopsy showing that Gray  also suffered from significant heart disease.
SLIPKNOT will release their sixth studio album, We Are Not Your Kind, on August 9 via Roadrunner Records. Album was once again recorded at a Los Angeles studio with producer Greg Fidelman, who engineered and mixed SLIPKNOT's 2004 album "Vol. 3: (The Subliminal Verses)" and helmed 2014's ".5: The Gray Chapter."
In March, SLIPKNOT announced the departure with the percussionist Chris Fehn after he filed a lawsuit against his band members over unpaid loyalties.
In his lawsuit, Fehn claims to have always been told that the money from merchandise and touring is funneled through one sole company that splits profits and pays the members of the band. However, Fehn claims he recently discovered that his bandmates have set up several other SLIPKNOT-affiliated business entities in different states that appear to be collecting money from the band.
SLIPKNOT have refused to reveal the identity of the new member, who is replacing Fehn, but some fans on Slipknot Reddit had speculated that Zach Hill is the new percussionist, and said they saw him at Jimmy Kimmel Live.
Band has recently unveiled details of their very own craft spirit, No. 9 Iowa Whiskey, which will be available this summer at select retailers in all 50 states and at the band's headline Knotfest Roadshow North America tour. A collaboration with the Iowa-based Cedar Ridge Distillery, No. 9 Iowa Whiskey (90 proof) and No. 9 Reserve Iowa Whiskey (99 proof) are made with corn from the award-winning distillery's family farm in Winthrop, Iowa.