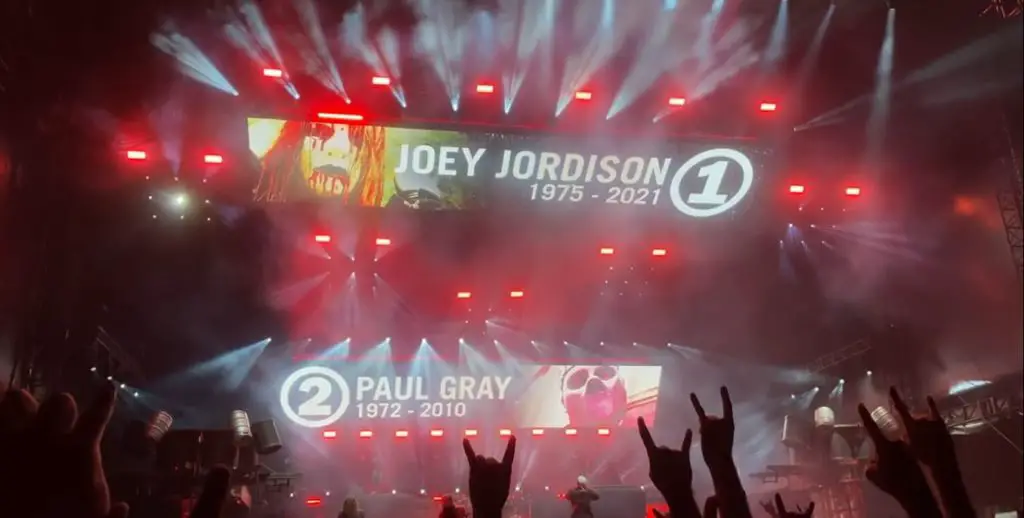 At the end of their set at this past Saturday's (September 25) Knotfest Iowa, SLIPKNOT paid tribute to two of its founding members, Joey Jordison and Paul Gray, both of whom are passed.
After performing the song "Surfacing," a song written by Gray, Jordison and SLIPKNOT frontman Corey Taylor, pictures of Joey and Paul emerged on the large video screens on the stage along with the numbers each one of them was assigned at the band's formation as well as their birth and death years. Fan-filmed video footage of the tribute can be seen below.
Joey Jordison passed away peacefully on July 26th in his sleep at age 46.
SLIPKNOT announced its split with Jordison in December 2013 but did not disclose the reasons for his exit. The drummer subsequently issued a statement saying that he did not quit the band.
Several years ago, Jordison overcame the neurological condition acute transverse myelitis, an inflammation of the spinal cord which damages nerve fibers, which ultimately led to the drummer temporarily losing the use of his legs.
Gray was found dead on May 24, 2010 after overdosing on drugs in a hotel room in a suburb of Des Moines, Iowa, where he and SLIPKNOT were based. His family blamed the death on a Des Moines pain doctor, Daniel Baldi, who had treated Gray for years, and sued the doctor and his former employers.