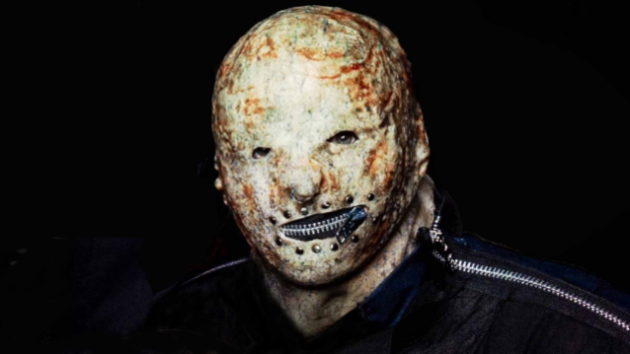 In a new interview with Rock Antenne, Corey Taylor spoke about the stage antics of SLIPKNOT's new percussionist Tortilla Man revealing he recently sliced open his face on Jay Weinberg's drum kit mid-show.
"You have to be careful of the new guy – new guy gets crazy," Corey said. "Like, the new guy almost got docked some money because he almost broke Jay [Weinberg]'s drums the other night. Like, he's the fly in the ointment, he's the pube in the coke. I was, like, every time I turn around, he's doing something weird, so I started chasing him just to make sure I'm keeping track of his habits and sh*t.
"And yeah, honestly, that energy is dope; it's really, really good," he continued. "He's so into it and that it reminds me to be into it. After this many years, you can get out there and just be, like, you know, the audience is obviously gonna invigorate you, but then you can find yourself kind of going through, I don't want to say 'going through the motions,' but it's almost, like, automatic – like muscle memory. And then this guy comes out of nowhere, he's hanging on people… I was, like, 'Oh, yeah, that's f*cking SLIPKNOT, dude!' And it gets really weird.
"He's f*cking his face up, which I think is funny," Corey added. "He's got a giant scar right in the middle of his forehead now because he smashed his head into the drums and cut it open.
"He was bleeding during the show, so he had to pull the mask off during the show and they're bandaging him up. He looked like he's just been to war, and now he's got a scar in the middle of his forehead – looks like a coin slot. [Laughs]"
SLIPKNOT recently announced that they will once again be hitting the road this summer to headline the "Knotfest Roadshow" 2020 North American tour produced by Live Nation. Joining them and rounding out a killer lineup showcasing the best the world of heavy music has to offer, will be special guests A DAY TO REMEMBER, UNDEROATH and CODE ORANGE.
Tickets for the tour are available here.
SLIPKNOT released their sixth studio album, We Are Not Your Kind, on August 9 via Roadrunner Records. Album was once again recorded at a Los Angeles studio with producer Greg Fidelman, who engineered and mixed SLIPKNOT's 2004 album Vol. 3: (The Subliminal Verses) and helmed 2014's .5: The Gray Chapter.