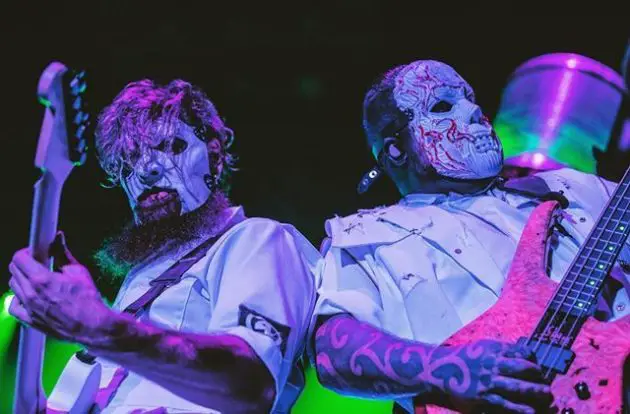 SLIPKNOT has revealed a brand new look at its concert Tuesday night (July 30) at the Pain In The Grass festival in Auburn, Washington.
Replacing the black jumpsuits SLIPKNOT wore at the start of the 2019 touring cycle are mostly white jumpsuits and slightly adjusted masks.
You can see the new masks below.
After receiving a lot of criticism on his new SLIPKNOT mask, Corey Taylor said that he is not planning to change his mask.
Responding to a fan on Instagram, the singer explained why he'll never change it:
"I love how much your mask is seriously wrecking heads," says @mandis_world02. "Personally, I like it. You've achieved what you set out to do….f*cking loving it!!"
"That's exactly why I'll never change it," replied Corey, "because it bothers SOOOOOO many people."
In a recent interview with Kerrang!, Taylor explained his new mask was made to "f*ck with people."
"My vision was about trying to create something uncomfortable – not only for me to wear, but for people to look at," said Corey. "I wanted it to feel like it was something that was created in someone's basement – something that was made specifically to f*ck with people.
"It's the representation of public opinion turning on a dime – they want to tear people down for the way they live, even if they don't really know them. It's been liberating to embrace that side and be like, 'F*ck you. I really don't give a sh*t what you think about me, so here's this!'"
SLIPKNOT will release their sixth studio album, We Are Not Your Kind, on August 9 via Roadrunner Records. Album was once again recorded at a Los Angeles studio with producer Greg Fidelman, who engineered and mixed SLIPKNOT's 2004 album "Vol. 3: (The Subliminal Verses)" and helmed 2014's ".5: The Gray Chapter."
In March, SLIPKNOT announced the departure with the percussionist Chris Fehn after he filed a lawsuit against his band members over unpaid loyalties.
In his lawsuit, Fehn claims to have always been told that the money from merchandise and touring is funneled through one sole company that splits profits and pays the members of the band. However, Fehn claims he recently discovered that his bandmates have set up several other SLIPKNOT-affiliated business entities in different states that appear to be collecting money from the band.
SLIPKNOT have refused to reveal the identity of the new member, who is replacing Fehn, but some fans on Slipknot Reddit had speculated that Zach Hill is the new percussionist, and said they saw him at Jimmy Kimmel Live.
Band has recently unveiled details of their very own craft spirit, No. 9 Iowa Whiskey, which will be available this summer at select retailers in all 50 states and at the band's headline Knotfest Roadshow North America tour. A collaboration with the Iowa-based Cedar Ridge Distillery, No. 9 Iowa Whiskey (90 proof) and No. 9 Reserve Iowa Whiskey (99 proof) are made with corn from the award-winning distillery's family farm in Winthrop, Iowa.