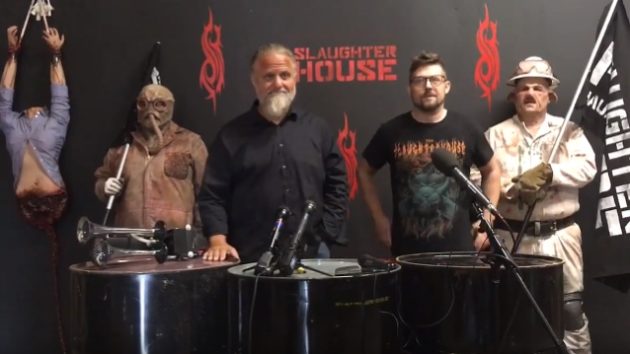 SLIPKNOT has partnered with the Des Moines, Iowa haunted attraction Slaughterhouse. The 10,000 square-foot haunt will feature memorabilia from the group, meet-and-greet events, about 40-50 actors who will bring the band's "iconology, lore and culture" to life, and even an opportunity to go through the Slaughterhouse with a SLIPKNOT bandmember.
SLIPKNOT's Shawn "Clown" Crahan comments on collaboration:
 "It's been a long time since we've done anything in Des Moines besides play shows, so we're really happy to do this," he said.

"It's going to be a lot of fun. It's going to be scary. And it's going to be heavy metal," he added. "Art at its most extreme."

"We're going to invite this to the entire world," Crahan said. "Normally, that would be kind of a strange thing to say, but…you won't believe who'll show up. We have dedicated fans. When we [tour] Europe, they're at every show.

"It's all about the fans," he said. "It's all about a special experience, making it one-on-one, almost. It really is going to be a moment in our history, in their history. And our history in Des Moines."
The haunted attraction will be open October 5-28. The weekend of October 18-21 will include VIP packages.
For more information, go to this location.
We've partnered with Iowa's "Slaughterhouse Haunted House" this year to feature memorabilia, decor and themed actors for the 2018 season. Dates run October 5-28, with a VIP Weekend October 18-21 featuring guided tours, Meet & Greets & more. Tickets & info: https://t.co/bpesRluiaU pic.twitter.com/ONRkf2KRQc

— Slipknot (@slipknot) September 13, 2018