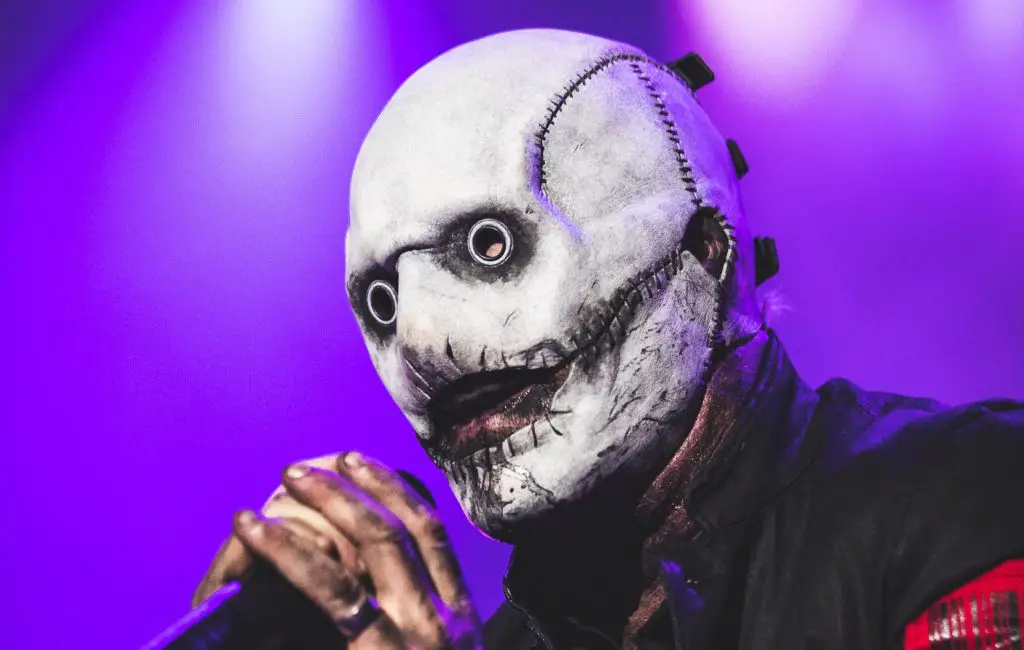 Corey Taylor debuted his new mask on SLIPKNOT's first show in 18 months Saturday night (September 4) at the Rocklahoma festival in Pryor, Oklahoma.
In an interview with "Andy's Hall Pass" this past May, Taylor discussed his new mask for upcoming SLIPKNOT album cycle.
"The mask has been a part of us forever. The mask is king," Corey said. "And for us, especially people like me and Clown and the guys in the band that really allow those masks to evolve, it's important for it to be a reflection of who we are in that music. And I can tell you that the mask I'm working on is very disturbing. It's gonna be hard to look at. And it'll probably be my favorite mask that I've ever put together. It's little bits and pieces of things that have intrigued me, of masks that I've had in the past. And it's gonna have a devil-may-care kind of terror to it, let's put it that way."
He continued while talking about the follow-up to 2019's We Are Not Your Kind: "We've got a bunch of really cool stuff, man. It was something that we just kind of started kicking around, obviously, in quarantine," Corey said. "And Clown [SLIPKNOT percussionist M. Shawn Crahan] hit me up — he was, like, 'Hey, we're gonna start working on some music. Are you down?' I was, like, 'Absolutely. Start sending me some stuff, and we'll start figuring it out.' So they started putting together some rad music, man — really cool stuff that made me start thinking outside my own box and challenging myself.
"And it was cool, 'cause I got excited again about exploring some different stuff and not just being so driven in my own thing but thinking outside, trying to tell other people's stories again. And that's kind of where I'm going with this new SLIPKNOT album — trying to tell other people's stories and not just my own. And it's feeling pretty rad, man. I can't wait for people to hear it."
SLIPKNOT announced a return to the road for its incendiary 2021 incarnation of the "Knotfest Roadshow," Support will come from three Grammy-nominated heavy music luminaries, KILLSWITCH ENGAGE, FEVER 333 and CODE ORANGE. Tickets for the tour are now available at this location.