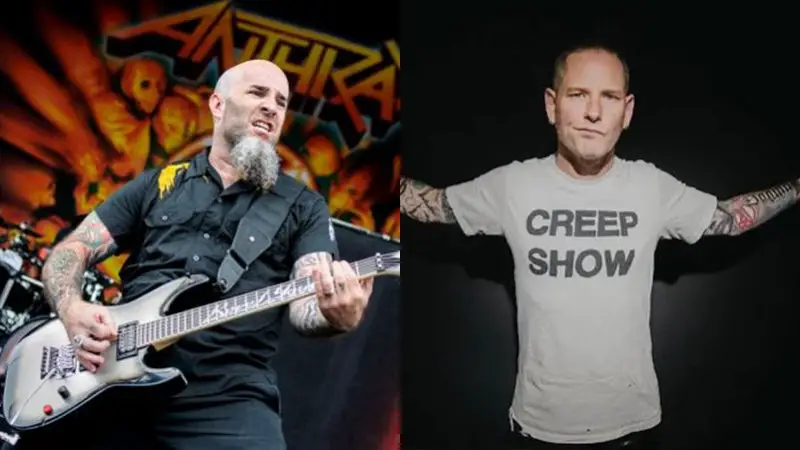 During a recent appearance on Talk Is Jericho, SLIPKNOT and STONE SOUR frontman Corey Taylor looked back on almost joining ANTHRAX back in 2007.
ANTHRAX were going through an uncertain period after parting ways with John Bush in 2005 and reuniting with Joey Belladonna for two years.
The group then hired Dan Nelson in 2007, who fronted the group for two years before Belladonna rejoined once more and has stayed in the fold ever since.
Corey now said: "The day I got told that I couldn't do it — by Roadrunner — was the day I was getting ready to go to Chicago to work with Scott [Ian, guitar] and Charlie [Benante, guitar]. I was actually kind of trying to find out — because at the time I wasn't sure what ANTHRAX's contract was — 'Maybe we can release it on Roadrunner,' I was kind of reaching out like that, not on ANTHRAX's behalf, but just for my own.
"I'd even gone through with my manager it was like, 'OK — we'll just treat this as an album full of guest appearances,' because there was no way I was going to be able to get a contract with them," Corey continued. "Contractually, I was trying to work out the nuances — the loopholes, basically. The day I was supposed to get on the plane, I get this big conference call, and they told me that they weren't going to let me do it.
"It was like, 'You can go ahead and go record all that stuff — and we will sue them and not let them release anything.' And it was all because they wanted another SLIPKNOT album — it really didn't have anything to do with ANTHRAX or me necessarily. They wanted another SLIPKNOT album, and that was [2009's] All Hope Is Gone.
"That was the hardest phone call I had to ever make. And Scott's got a heartbreaking, great story about it, where he was, flying back from Europe. He had gone over there to see METALLICA do something really cool, and he was on his way back. And he was flying right into Chicago to go to work with me and Charlie, and he lands and he gets that voice message. He's standing at the airport, and he's just like, 'F*ck…'
"So that sucked," he added. "And for the longest time, I thought that Charlie was really mad at me. I felt horrible. This was something I really wanted to do. They had sent me so much stuff that then ended up on [2011's] Worship Music, so I got to hear all this stuff and great ideas. So even now, when I hear that album, I instinctively hear the sh*t that I was writing for.
"Here's a little trivia for you — some of the stuff that I was writing for Anthrax, I ended up using on All Hope Is Gone, lyric-wise. I changed some of the melodies and stuff, but the lyrics for 'Dead Memories,' I was actually gonna use for ANTHRAX. There's a handful of other things, but I had written a bunch of stuff down and I liked those lyrics so much that I ended up going, 'You know what? I'm gonna use this.' That was an absolute reality, man."
In a recent interview with Ultimate Guitar, Scott Ian was asked how does he think ANTHRAX album with Corey would sound like, to which he responded: "Well, I don't know — 'cause I don't live in the alternate universe where that happened. So, yeah, obviously it would have sounded good because it's Corey and Corey's a great singer.
"But I couldn't tell you how it would have turned out, I don't know," he continued. "But, Corey's a great singer, so I don't know how it would have been anything but great."
Asked if the thinks he could have had a great writing session with Corey, Ian said: "Although I can say that I just wrote a song for a movie that's coming out next year — I can't tell you what it is yet because they're going to announce it, but we co-wrote a song together for a movie, me and Corey, and it came out great. So I can say that we worked very well creatively together, and that was just three weeks ago."