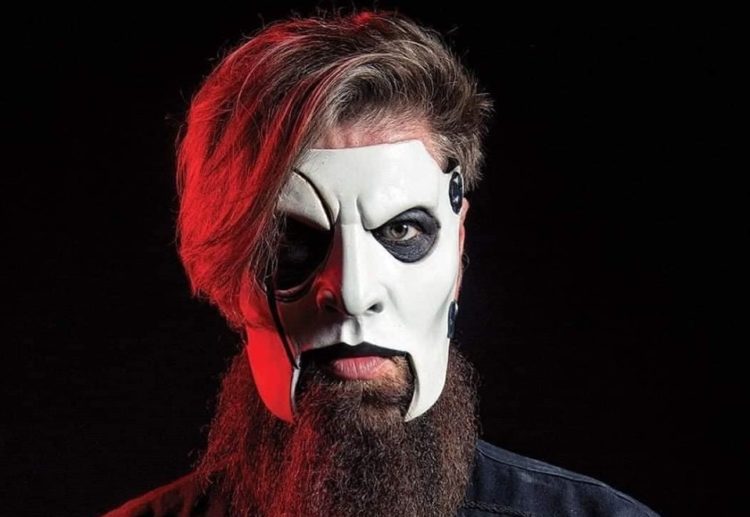 In a new interview with Kerrang Magazine, guitarist Jim Root talked about the new SLIPKNOT album We Are Not Your Kind, touching on the creative contributions of percussionist Shawn "Clown" Crahan.
Before we even started writing this record, Clown had been, like, 'I want to get a choir,'" Jim said while discussing the "Unsainted" track.
Root added: "He was thinking in terms of a children's choir, like a PINK FLOYD – 'The Wall' kind of thing, but we ended up getting a regular choir, and they took a version of the melody line from the original guitar line that started the demo song, which is a variation of the chorus riff.
"The choir did what they did, and to me, it turned out to be pretty epic. I heard someone compare it to 'You Can't Always Get What You Want' by THE ROLLING STONES, and I think that's a pretty ambitious comparison, but I'll certainly take it. [Laughs]"
Focusing on "Death Because of Death," Root commented:
"This is another one from the mind of Clown. [Laughs] While we were tracking in the other room, he was just diving really deep into this stuff.

"'Death Because of Death' is an example of Clown's talent; he's an amazing songwriter, and I don't think he gets a lot of credit for being such, but there's a couple of songs here, that came from his brain, heart, and soul, which are probably some of the best songs on the record."
Switching to the album's fifth track, "Nero Forte," the guitarist added:
"This is also a Clown song, which is amazing. This one is going to be great live. It's very percussive, and reminiscent of [2008's] 'Psychosocial' – but maybe an evolution of 'Psychosocial.'

"Obviously, Clown is a drummer and percussionist, but he's also a songwriter – and he always has been. Now we're able to collaborate as songwriters, and this is what we end up with.

"When Corey [Taylor, vocals] came in and started diving into the vocals, he came up with this extra melody in the chorus line, very late into the process. That really drew me into this song."
While discussing "What's Next," Jim said:
"I don't know how I'd describe this! That's another of the segues, that was from the mind of Clown.

"And, actually, some of these arrangements had working titles, which then changed, and we've been working on them for so long that, unless I hear it, I don't really know which is which. [Laughs]

"You get used to something being called a certain name for two years, and then it changes and you're, like, 'What song is that now?!'"
SLIPKNOT will release their sixth studio album, We Are Not Your Kind, on August 9 via Roadrunner Records. Album was once again recorded at a Los Angeles studio with producer Greg Fidelman, who engineered and mixed SLIPKNOT's 2004 album "Vol. 3: (The Subliminal Verses)" and helmed 2014's ".5: The Gray Chapter."
In March, SLIPKNOT announced the departure with the percussionist Chris Fehn after he filed a lawsuit against his band members over unpaid loyalties.
In his lawsuit, Fehn claims to have always been told that the money from merchandise and touring is funneled through one sole company that splits profits and pays the members of the band. However, Fehn claims he recently discovered that his bandmates have set up several other SLIPKNOT-affiliated business entities in different states that appear to be collecting money from the band.
SLIPKNOT have refused to reveal the identity of the new member, who is replacing Fehn, but some fans on Slipknot Reddit had speculated that Zach Hill is the new percussionist, and said they saw him at Jimmy Kimmel Live.