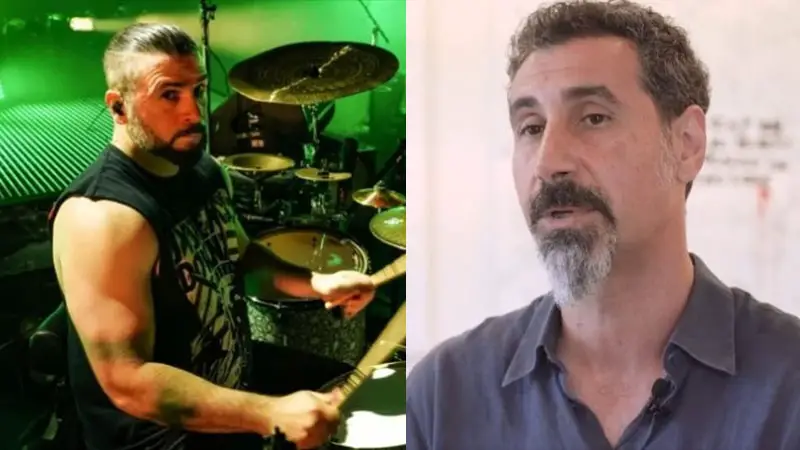 Several days ago, SYSTEM OF A DOWN singer Serj Tankian took to his Instagram to share the lyrics to the band's early demo track "Temper," which was originally demoed for group's 1998 debut album, but ultimately didn't make the final cut.
He wrote about "Temper" in his post: "A very early SYSTEM OF A DOWN song that was on one of our demos-lyrics below: if you love this song or play along to it and love Trump, you're a hypocrite-just a simple fact ? 'Temper'"
He then chimed in in the comments section to add: "Let me add that obviously the song was written in the 90s and refers to injustice in the US and injustice by the US via successive Democratic and Republican administrations. I just find the most current one the most repugnant."
Now, band's drummer John Dolmayan, who has praised President Donald Trump in recent weeks, was asked on Instagram if he takes offense to Serj's comments, to which he replied: "I hope he was misunderstood when he said that. I don't believe he thinks that way."
Earlier this week, Dolmayan once again defended Trump and slammed democrats for "demonizing" U.S. President.
"Working together to fix problems seems to be the last thing on the lefts mind , instead it's about demonizing Trump and blaming him for everything under the sun and telling you you're a bad person for voting for him etc, the usual liberal tactic straight from the Marxist manifesto," Dolmayan wrote on Instagram.
"Blocking every effort the president attempts to make will not help any of us although the obvious ploy was also used by republicans in the past and can be effective in the war we all unfortunately must pay for over control of this land.
"We are destroying ourselves from the inside, all fueled by our enemies abroad and helped by the useful idiots that live among us but hate the country that made them.
"I will fight to maintain this republic though it costs me everything I have, I will fight for those who protect us like the police, I will fight for all of our rights under the constitution, and I will fight for our future. If that costs me personally so be it."