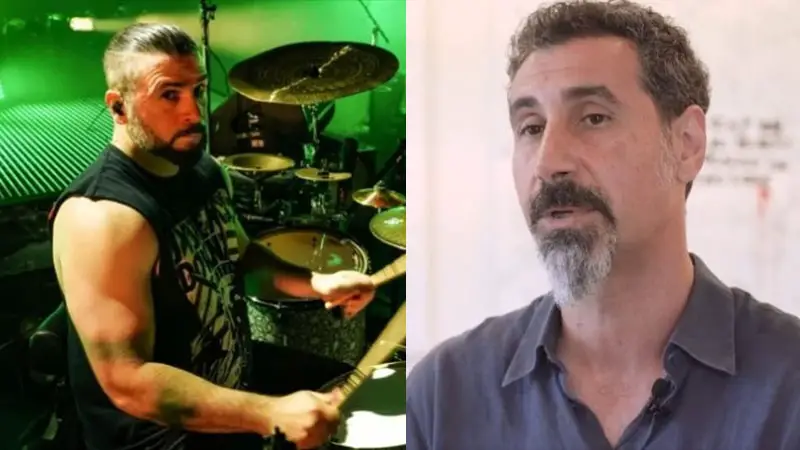 In a recent interview with Forbes, SYSTEM OF A DOWN frontman Serj Tankian was asked if it's frustrating for him to see his bandmate John Dolmayan so publicly supportive of America's 45th president, especially considering Dolmayan is Armenian as well.
"He's my brother-in-law and my drummer. Is it frustrating being politically opposite to your own drummer and brother-in-law? F*ck yeah," Tankian responded. "Of course it's frustrating. But that's having to do with American politics. When it comes to Armenian issues, we're on the same exact page. We know what injustice is happening, we work together.
"We're doing different auction activities and working together on many fronts," he continued. "The Armenian nation is united, whether you voted for Republican, Democrat or neither. But I was a Bernie [Sanders] supporter, I still am. I feel like he still would've been the best choice going forward. But I'm okay with [Joe] Biden. The elections are coming up and normally I'm very vocal, but this war and the daily death toll [in the disputed region of Nagorno-Karabakh] has really taken up my full spectrum of focus."
During a last month's appearance on the "Deviant Gentlemen Podcast," John Dolmayan addressed his relationship with Tankian as the two have been sharing different political views in past years.
"We're also brother-in-laws. We're married to two sisters," Dolmayan said. He married the older sister, and I married the younger sister. By coincidence, of course — we didn't plan it that way. I have a very open mind about things. I don't think it comes off that way always on my Instagram posts, because usually when I'm posting that, it's in the heat of the moment — something has upset me. And at the end of the day, these are my opinions."
When discussing why he became more politically vocal in recent months, Dolmayan said: "One of the reasons why I put up these posts is because SYSTEM OF A DOWN has a legacy of being left-leaning, which isn't always the case. Serj, of course, is responsible for the lyrics, but they didn't always represent the band in the way that we maybe wanted to.
"There's four individuals in the band. I don't speak for any of the individuals except for myself, and neither does Serj. But because he had that platform of writing lyrics, the perception was out there that that's how the band felt at all times, where I don't even think Serj necessarily felt those ways at all times. You're supposed to have the diversity of opinion even within your own mind, and you should judge things based on information that's presented to you.
"A lot of those lyrics I did agree with at that time — for example, reforming the prison system. Some things Trump has actually done," he continued. "I just don't believe it's quite as 'black and white' as we're led to believe it is, that if you don't have an open mind about things and if you don't delve into the reasons things are happening and kind of discover things for yourselves, and you just say 'OK, I'm a Republican,' or, 'I'm a Democrat, and that's what I'm gonna be for the rest of my life,' you're doing yourself a disservice.
"One of the main reasons and primary reasons I get myself into a lot of trouble and do myself no favors by posting the things I post because they're not popular views, but one of the reasons I do it is because if you're a SYSTEM fan, and you enjoy the music, you enjoy some of the lyrics…
"And by the way, only about 12% or less of our music is political in origin anyway… There's a lot of lyrics that are social, they're about love interests, they're about your life, they're about calamities that take place, and some of them are just fantasy," Dolmayan added. "And a lot of that stuff is taken out of context as well. But if you're a SYSTEM fan and you gravitate towards the music, you enjoy the music, but you don't necessarily agree with the perceived message, well, where do you go?
"If you think that Serj is the mouthpiece of the band, which he is, as far as vocally, but not necessarily for ideology, then you have nowhere to go," he concluded. "So I wanted to present a different view and to give kids out there who think differently and who are critical thinkers, not necessarily following the norm, that there is a different option, you can think differently, it's OK to have a diversity of opinion, as long as it's done peaceably."