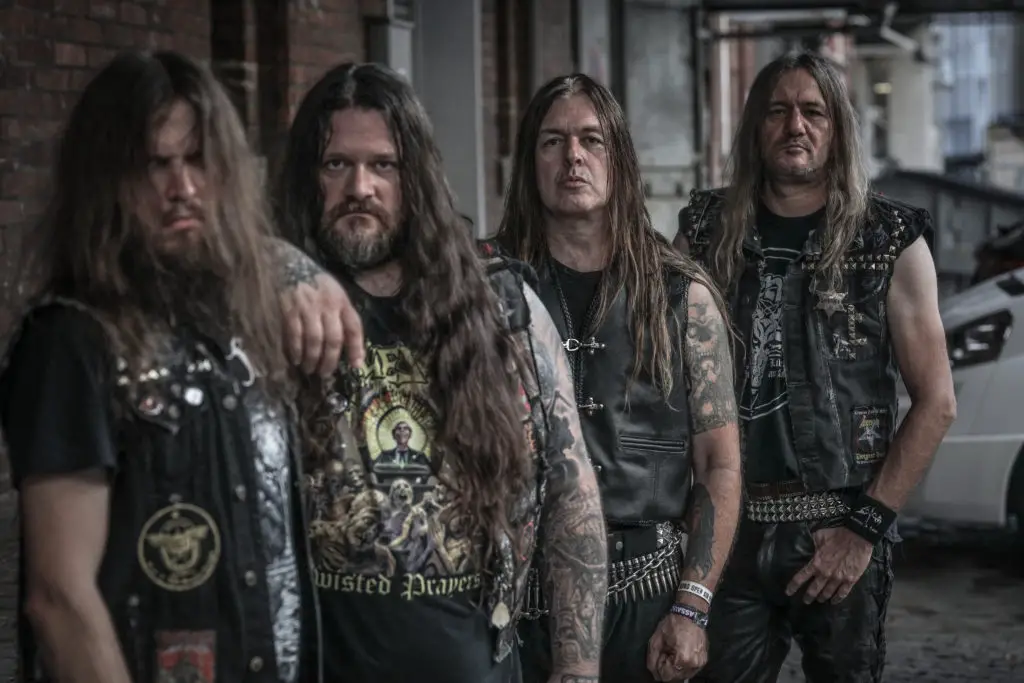 The close relationship between a metal band and its fans can be measured by – among other things – how long they make their supporters wait for new songs. So looking at it from that perspective, Sodom are definitely exemplary seeing that they've always supplied their huge following with new material at regular intervals. The release of their current album "Decision Day" was followed – in time for their major European tour in December 2018 – by the EP "Partisan." Now the Gelsenkirchen thrash metal act surrounding figurehead Tom Angelripper (vocals, bass) presents itself from its generous side again: Even before work on their upcoming album is set to commence, Sodom are ready to unleash their brand-new mini-album "Out Of The Frontline Trench." Tom calls the recording "a sign of life for our fans", having cut, together with his guitarists Frank Blackfire and Yorck Segatz plus drummer Husky, three new songs as well as two classics (one of them re-recorded, the other one a live number), "Out Of The Frontline Trench" forging an arch between (Sodom's) past, present and future.
The song "Genesis 19," according to Tom the first official harbinger of the scheduled, probably eponymously titled new album, is at the centre of the mini-album. Familiar Sodom attributes also apply to "Genesis 19": stalwart thrash metal, hard as nails and fast-paced, down to earth and ambitioned, with a typical Tom Angelripper lyric about the destruction of the cities of Sodom and Gomorrah (as mentioned in the Bible).
"I've always been fascinated by the subject," explains Tom, "but irrespective of religious aspects I've approached the story from the historic side, raising the question of whether it could perhaps have been a natural phenomenon, such as a meteorite impact, that devastated those cities. The lyric also includes a new interpretation of the story of Lot, a resident of Sodom, to do justice to the original Bible version."
In addition to "Genesis 19," "Out Of The Frontline Trench" features two more new tracks, namely the title song and "Down On Your Knees." Both are about the horrors of World War I. Tom:
"Postcards and letters from my granddad, which I discovered among the things he left behind when he died, and some TV documentaries have given me a vague idea of what it must have been like for soldiers back in those days to leave their trenches and face those life-threatening battles."
"Out Of The Frontline Trench" is rounded off by a re-recorded version of the Sodom classic "Agent Orange" (the seminal album celebrating its 30th anniversary this year) and a live version of "Bombenhagel," recorded at Schalke's Veltins Arena in June 2018, with Angelripper & Co. including a traditional miners' song as a little gimmick at the end.
"Out Of The Frontline Trench" was recorded and co-produced by Klaus Spangenberg. Tom:
"Klaus also takes care of our live mix and has made sure that the new songs sound particularly alive and authentic. In addition, there are no trigger signals, no digital profiling amplifiers, just as many analogue machines as possible to capture that inexplicable magic that is created between guitar amps/drums and microphones. Others talk about going back to their roots, we just do it!"
There can be no doubt: The latest Sodom line-up oozes energy and imagination, which they are fortunately happy to share with their fans, making the wait until the release of their next album more bearable thanks to "Out Of The Frontline Trench."
Read our review here.