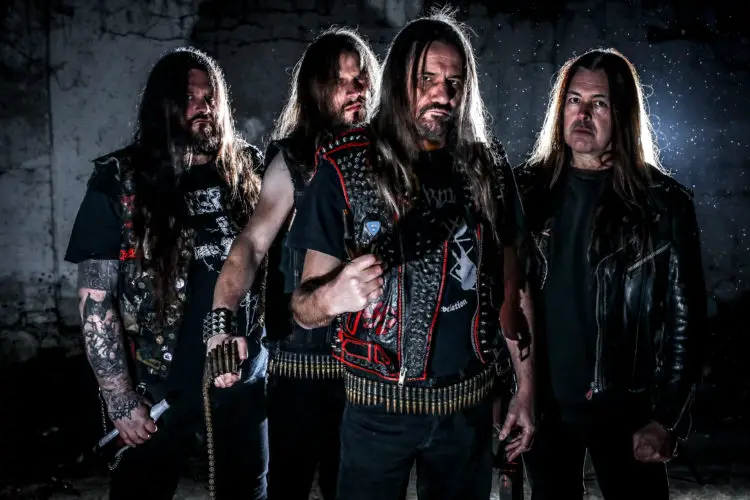 Attention all Sodom fans, there's a number of exciting news from Tom Angelripper & Co! On the one hand, the band are currently at the studio to record new material, on the other their next shows are scheduled for early September, and the end of November will see the start of their extensive "TV Headbangers Ball Tour 2018" alongside Exodus, Death Angel and Suicidal Angels. And as if that wasn't enough great news, the best bit of intelligence comes directly from the thrash metal act's inner circle:
"We're a real family again," enthuses frontman Angelripper following the band's line-up change in spring 2018. "We all really enjoy the new line-up consisting of Frank Blackfire (guitar, ex-Sodom, ex-Kreator, Assassin), Yorck Segatz (guitar, Beyondition), Husky (drums, Asphyx, Desaster) and myself. There's a real team spirit again, we're having a great time together, every one of us is interested in everythingand – really important! – everybody is there for everybody else. Obviously that kind of atmosphere is bound to have a positive effect on the songwriting."
Examples?
Sodom's new EP 'Partisan' will be out on 23 November 2018, featuring three tracks including a live recording from this year's Rock Hard Festival. The new line-up could hardly present itself in a more impressive manner!
Here are a few details about the new EP, which will be available on Digi-CD EP and on 10" vinyl: 'Partisan' is the current Sodom line-up's mission statement, indicating which course they are set to follow from now on. The song's main riff was composed by guitarist Frank Blackfire and defines the future parameters of Sodom's sound.
Angelripper:
"Frank has his very own guitar style, as we all know from our time together on 'Agent Orange' and 'Persecution Mania.' That's something that's very distinct on 'Partisan,' the only difference being that the degree of toughness on our new material raises hell even better than our early stuff. And as always with Sodom, the chorus part really gets down to business and is thoroughly catchy."
The 'Partisan' lyrics were penned, as always, by Angelripper himself: "That unique aura that surrounds a lone warrior in a battle, that unconditional relentlessness against yourself and the enemy, have always fascinated me. Partisans fight uncompromisingly for their goals. In a way, it's the same with Sodom."
The second song on the 'Partisan' EP is also brand-new. It's called 'Conflagration' and was written by guitarist Yorck Segatz – another typical Sodom number that shows just how much positive energy and zest the band currently has. 'Conflagration' sees Tom Angelripper analyse in his usual unmistakable way that the world is coming apart at the seams, the way it presents itself at the moment. "I've sketched a pretty apocalyptic scenario, but as often in my lyrics with fantasy elements." The two numbers were produced by Sodom's regular sound engineer Cornelius 'Corny' Rambadt, who made sure that the dynamic songwriting is also reflected in the songs' sound. Tom:
"We consciously recorded the drums old-school style and experimented with different sounds to come up with a dynamic and vibrant product, in contrast to the usual sterile productions released by other bands which have unfortunately become the order of the day. The sound of our new EP perfectly fits our aim to combine the compositional class of recordings such as 'Agent Orange' and 'Persecution Mania' with the hardness of, for example, Tapping The Vein."
And last but not least: Song no. 3 on the 'Partisan' EP is a live version of "Tired & Red," recorded on 18 May 2018 during the Rock Hard Festivals at the Gelsenkirchen Amphitheater – a track that sees Sodom celebrate the return of Frank Blackfire. Tom:
"As you know, the number is off 'Agent Orange' and represents in a way an era which was very much marked by Frank and his guitar style. On stage you get a lot of added adrenalin, of course."
By the way: Sodom will present on all important websites the driving 'One Step Over The Line' off Tapping The Vein, also recorded at the 2018 Rock Hard Festival, as a digital live clip on time for the 'Partisan' release and as an appetiser for their December tour. So there's a lot of oomph in this band at the moment, or, as Tom puts it so aptly: "We'll stay on the ball!"
New Line-Up:
Tom Angelripper – bass, vocals
Frank Blackfire – guitars
Yorck Segatz – guitars
Husky – drums
Read our review here.