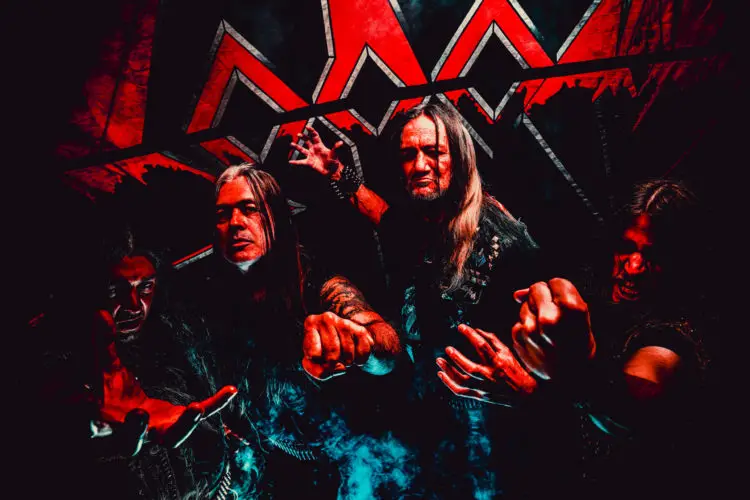 Following yet more official appreciation, as acknowledged by the presentation of the German Record Critics' Award, for their current album "Genesis XIX" (having garnered the prize once before with its predecessor "Decision Day" in 2016) and prior to their upcoming 40th band anniversary next year, Sodom have rarely been as energetic as in spring 2021. Despite cancelled shows, despite the Covid-19 lockdown, despite the many imponderabilities that these strange times bring about. In a phase when other bands appear to remain stuck in anguish, 20 August 2021 will see Tom Angelripper and band members Frank Blackfire (guitar), Yorck Segatz (guitar) and Toni Merkel (drums) release their brand-new EP "Bombenhagel" on Steamhammer/SPV, available on CD, 12" vinyl and for digital download. "Originally we had planned to bring out the record in time for this year's summer festival season, including a sticker with all confirmed tour dates. Of course, the way it looks at the moment, all gigs will be postponed until 2022. But the EP will be released anyway, as a sign of life. As a signal to our fans: We're still around! The story continues," explains Tom, who has three sensational numbers up his sleeve.
Number 1: a new edition of their classic 'Bombenhagel', from their 1987 album "Persecution Mania." "I wanted a recording of our old classic by the new line-up. Of course that was really special with a drummer such as Toni and two stringsmen. This new arrangement of our anthem definitely holds a few surprises in store." Not forgetting an awesome guitar solo courtesy of Harris Johns, who as a producer also guested on the "Persecution Mania" version of 'Bombenhagel': "Harris practically insisted on contributing a special kind of solo, in line with his outstanding skill. Naturally, that's been a real pleasure for us because we're all aware of what he's done for us. Without Harris, Sodom wouldn't be where we are today."
Number 2: the brand-new track 'Coup De Grace,' which Tom describes as a "true thrash sensation". The song was composed by Yorck Segatz, with lyrics penned – as ever – by Tom: "It's about the frequently-sung-about death blow that a hunter delivers to a deer that he has wounded, a torero to a bull, a killer to their victim. But what we are really saying is: Humanity is currently in the process of administering the blow of death to itself. Climate change, massive environmental problems, wars, the strange way of interacting that people currently have. We're all responsible if things go down the drain. 'Coup De Grace' is our attempt to rouse people and urge them to act more thoughtfully."
And last but not least, number 3: 'Pestiferous Posse,' a sinister, heavy and downright brutal track with low-tuned guitars and lots of "heavy artillery" (quote Tom) in terms of sound. It's about that most famous of gunfights in the history of the American Wild West at the O.K. Corral in Tombstone, Arizona, in October 1881 between the brothers Wyatt, Morgan and Virgil Earp and Doc Holliday, and local cattle and horse rustlers and outlaws, who called themselves the "Cowboys." To Tom, this historic event is not only a cornerstone of American history, but in a figurative sense also a synonym of current problems in the US, as well as Germany. He says: "If you look at the persistent battle between Democrats and Republicans, the storming of the Capitol a few months ago – there definitely are a few parallels with the past."
Talking of which: The new EP will certainly not be the last chapter of Sodom's history. Highly motivated thanks to the latest recognition of their outstanding thrash metal by fans and media alike, the four musicians have already set their sights on the future. Tom promises: "Of course we're really happy that our fans love 'Genesis XIX' and that the album has made no. 10 in the charts. After all, where would we be without our fans? Based on the fantastic reception of our album, our next target can only be to come up with something really special to mark our anniversary next year!
Tom Angelripper – bass, vocals
Frank Blackfire – guitars
Yorck Segatz – guitars
Toni Merkel – drums
Read our review here.