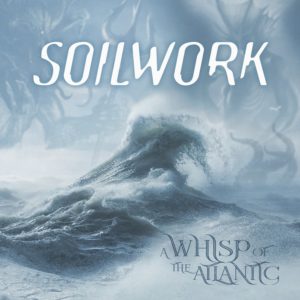 Some say that all bands evolve looking for more complex and meaningful forms of musically expresing themselves. The more the musicians learn and experience, the more they want to incorporate new experiences in their music. Genre limitations can't be a curb or restriction to any musician or band. I do get that. Really. I guess that indeed is a natural way. I've seen that a lot of times in my life as a Metal fan. The problem is when the band changes their roots in order to get more musically flexible to the new times. I do hate that. To me this 'get more flexible' often means to get more commercial and pop. We've seen that before and I don't need to give any examples. We all know who they are.
Soilwork are a groundbreaking band from the 1990s swedish Melodic Death Metal and they are responsible for changing the way Death Metal fans see the genre as they incorporated new elements to their music. In this "A Whisp of the Atlantic" the band shows that their will to change has no known limits. I guess that the label Melodic Death Metal isn't fair to them now. "A Whisp of the Atlantic" shows us this with no reasonable doubt. The album is anything but Melodeath. The way I see it the album could labeled as some kind of Progressive Metalcore or, as many like it now, just rock.
It's not my intent to rise any controversies here. "A Whisp of the Atlantic" is musically a good album with some really interesting ideas and elements as the sax and the clarinets and all of that that reminds us the 1970s. But it is in no way what the band was or it represented. Here and there there are some echos of a distant past when the band amde some really noise. Opening and title track, and the longest of all, "A Whisp of the Atlantic" is a great invitation card of the new Soilwork of the 21st century. The track has indeed its good moments, but, in my opinion, it lacks the needed aggression and power and heavyness. The same for the other four tracks of the album. They are warm, if you know what I mean. A band this grand coould not offer less to their fans. That's the critique I make to Soilwork and "A Whisp of the Atlantic." Of course, you, my child of the night, may call be purist, but you know that I'm right.
Soilwork "A Whisp of the Atlantic" was released on December 04th via Nuclear Blast Records.
Track Listing:
Whisp Of The Atlantic
Feverish
Desperado
Death Diviner
The Nothingness and the Devil
Watch "A Whisp of the Atlantic" official video here:
999