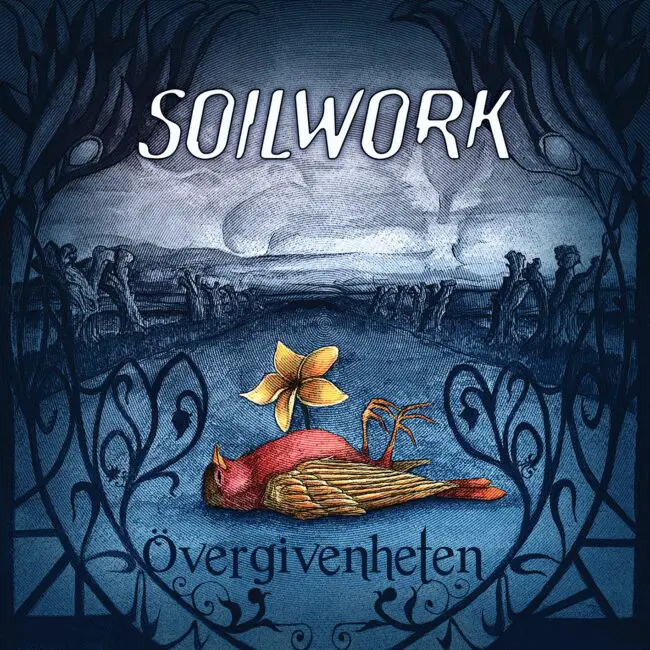 Me and Soilwork have a pretty neat history. The band was introduced to me by no one else than my own son. Short, but really relevant story. That made me buy 2010's "The Panic Broadcast" an album that already belongs to the new phase of the band which I know isn't too appreciated by their hardcore fans. Well, I have to say that I liked the band just because it had the same hodgepodge intent as In Flames, a band that I do appreciate a lot as well. With In Flames and At the Gates – read our review on "The Nightmare of Beng" – Soilwork share the identical start as Melodic Death Metal bands which during thir road changes their sonancy looking for new horizons. Ok, these new horizons many times actually mean getting more accessible commercially speaking. That's true. On one hand, that's exactly what happened to them all.  On the other hand, their music got not only accessible by incorporating modern Metal traits but also some Jazz, Prog Rock and other genres far and near Metal music. In fact, in terms of commercial success they were successful, but I do have to say that made their music much interesting considering all those mixes and elements incorporated.
This "Övergivenheten" is a bit more ambitious than the previous releases because it incorporates many others elements. "Nous Sommes La Guerre," for instance, besides having its tittle and some speeches in French addresses to the great and wondrous Savatage "Hall of the Mountain King" for the guitar riffing and the mooding. Interestingly, "Death, I Hear You Calling" sounds a hybrid of Savatage and Nine Inch Nails as weird as this must sound. In fact, it's so easy. The song has the vocals a la Nine Inch Nails's Trent Reznor and the guitar riffing of Savatage. Weird, but interesting. This will to blend made Soilwork's sound pretty varied with a lot of moods though vocals insist on being a la modern Metal. In "Eletric Again" and "This Godless Universe" the band seems to be nostalgic of their early ears and go for it in terms of speed and heavyness. Both tracks start pretty fast with some blast beats that are at some point mixed with the band's new identity. The mix is a little uncanny but it fits perfectly the band's new identity. "Dreams of Nowhere" has much more to do with Soilwork's past than the previous two though the grooving here and there. Being open to new influences as diverse as Jazz and 1980s Pop Jazz allowed the band to write a song "The Everlasting Flame" which is as sweet as short lived.
I don't recommend "Övergivenheten" to Soilwork's hardcore fans. It's recommended to the fans that are used to their new identity. Also to the fans of In Flames and At the Gates, bands that share the same plot twist in the career. The album still has its Melodic Death Metal moments but they are getting as scarce as money in my pockets. In general, they are mixed with the hodgepodge of sonancies that made the band's mind. Depending on what mt dear child of the night is in for the album is everything. More or less…
Soilwork "Övergivenheten" will be released on August 19th via Nuclear Blast Records.
Track Listing:
Övergivenheten
Nous Sommes La Guerre
Electric Again
Valleys of Gloam
Is It in Your Darkness
Vultures
Morgongåva / Stormfågel
Death, I Hear You Calling
This Godless Universe
Dreams of Nowhere
The Everlasting Flame
Golgata
Harvest Spine
On the Wings of a Goddess / Through Flaming Sheets of Rain
Watch "Valleys of Gloam" official video here: