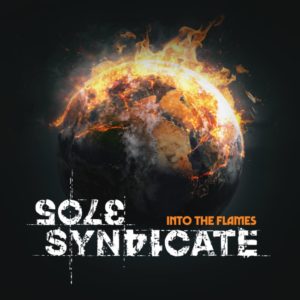 "Into the Flames" is the kind of album that surprises the fan whose patiente is ilimited. Or at least for the fan who has the patiente to wait less than some secunds to have an album change completely. The kind of album that I use to call deceptive because it begins one one to rapidly change from head to toe. The very beginning of "Forsaken" might deceive the unpatienced fan who thinks the deal here is Modern Metal of some sorts. But soon changes "Into the Flames" into some high class Prog Metal. But, wait! That's not the only change in the album. There is much more. From some high class Prog Metal the band changes into some commercial prone 1980s Prog Rock as the likes of Survivor or even 1980s Yes from "Owner of a Lonely Heart" era. It's the Prog Rock with some sugar where sometimes the sugar added gets too much. However, it's not the case here where the sugar is absolutely controlled. As the name says it "Shadow of My Love" is the track that leads the change of hearts. For instance, following track "Miss Behave's" initial  seconds sound as the 1980s Prog Rock made to play on the radio. With an addictive guitar riffing though. Not to forget the pun with words.
Ok, I have to admit that "Into the Flames" is a very complex album to analyse. There are too many changes in it not to consider its complexness. As you my dear fan knows, I don't pass a quick judgement on any album. Sometimes I have to listent to them more than once, more than twice. It depends on the level of complexity the album has. By complexity I don't mean only musically but also the other elements of the music. Guitar riffing, as aforementioned, is the highlight of the album. Tracks as "Sunset Strip" have that magical guitar playing. Besides addressing to the famous Los Angeles neighborhood where many 1980s Metal bands had their share of success.
If I had to wrap Sole Syndicate down in a few words, I'd say they mix Metal guitar riffings with the aforementioned 1980s Prog Rock. "Do You Believe" follows exactly this formula. It immediately addresses the fan to 1980s Yes from "Owner of a Lonely Heart" era. The 'nanah-nanah' and 'ooooh' are the key to it. Vocal features lead the way here. That's undoubtedly. Or the feeling the strong guitar riffing gets in "In the Absence of Light" which takes the fan by the heart and soul.
"Into the Flames" isn't an easy album to decypher.
Sole Syndicate "Into the Flames" will be released on June 17th via Scarlet Records.
Track Listing:
Forsaken
Count to Zero
Brave Enough
Shadow of My Love
Miss Behave
Dust of Angels
Sunset Strip
Do You Believe
In the Absence of Light
Freak Like Me
Back Against the Wall
Into the Flames
Watch "Brave Enough" official video here: