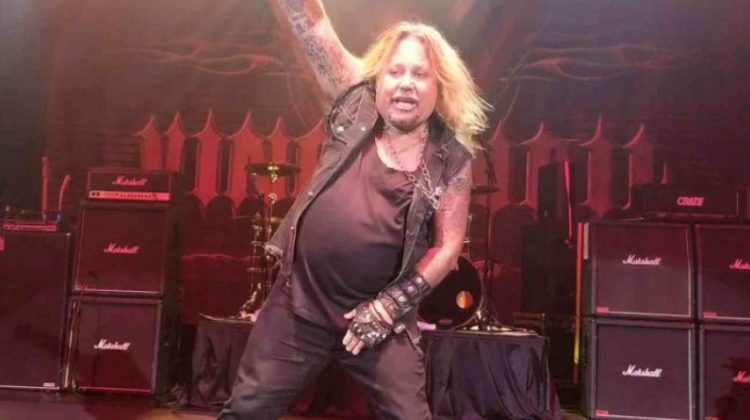 MÖTLEY CRÜE have collectively agreed to rip up the "cessation of touring" contract that they signed back in 2014 preventing any of them from performing under the band's name in the future.
Almost 6 years after signing a "cessation of touring" agreement, the MÖTLEY CRÜE contract is off the table because a whole new generation of Crüeheads are relentlessly demanding for the band to come back together," band said in a statement. "Following the huge success of their Netflix biopic The Dirt, MÖTLEY CRÜE has seen a massive surge in new audience. And the band best known for breaking the rules has destroyed their cessation of touring contract in true MÖTLEY CRÜE fashion, by literally blowing it up.
After 35 years together on stage, and 30 years since the release of "Dr. Feelgood", the members of MÖTLEY CRÜE parted ways without speaking to each other after their final show on December 31, 2015. Vince Neil, Nikki Sixx, Mick Mars and Tommy Lee didn't come together again until 2018 to participate in the making of The Dirt movie, which unexpectedly brought them closer together again including seeing them head back into the recording studio after having gone in their own directions for several years. The fuse was lit.
"The most relevant statement is that global film, with a global internet and global streaming, is the future," band's long-time manager Allen Kovac told Fox Business. "When I go to Amazon, I can see a MÖTLEY CRÜE book, I can see a MÖTLEY CRÜE documentary, I can see a MÖTLEY CRÜE live show, I can see the fact that they got a film, they got CDs out and they got streaming and they're selling merchandise.
"So to me, managers and artists should move into 2020 and out of 1999, and so should record companies. You can't make music in quarters. You can't develop an artist in a quarter. It takes a couple of years, sometimes a lot more."
He also addressed criticism of group's singer Vince Neil for his supposed diminished singing ability and weight gain and the health status of guitarist Mick Mars, who has been dealing with a chronic form of arthritis that led him to undergo a hip replacement.
"Some of them are working with a trainer, some of them are working with a nutritionist to make themselves the best they can be," Kovac said. "The greatest insecurity for an artist is: Is anyone going to care about my music? Is anyone going to buy a ticket? We were in November when the discussions were happening, and these guys were already into regimens of how they get ready for a tour."
Earlier this month, CRÜE and DEF LEPPARD have announced a 2020 stadium tour along with POISON and JOAN JETT & THE BLACKHEARTS.
The tickets for all the dates officially went on sale on Friday, December 13 at 10 a.m. CT.
You can get the tickets here.